Have Lenni PA Home Remodeling On The Brain? Trust Tri-County General Contracting With Your Next Project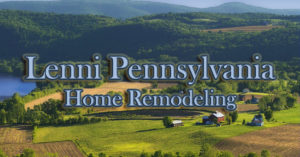 For homeowners in small Southeast PA towns like Lenni, choosing a reliable, professional general contracting company for home remodeling jobs has never been easier. Tri-County General Contracting has been serving rural PA communities for decades now, getting satisfied customers the home remodels of their dreams with budgets that are lower than the competition. Based just a few miles down the road in Glen Mills, PA, Tom Thornton and his team of subcontractors are specialists at kitchen, bathroom, basement and decking overhauls. They can even build new custom homes for customers looking to start from scratch. No matter what size project you have in mind – from the humblest basement remodel to elaborate additions and multi-room renovations – Tri-County has the expertise, tools, training and manpower to get your Lenni PA home remodeling project wrapped up on-time and within-budget.
From Chester Creek To Lenni Park, A Neighborhood General Contracting Service Offering Big City-Quality Work With Small-Town Customer Service
Here at Tri-County, we've worked on home remodels all the way down the Main Line to Southern Delaware County, as well as Chester & Montgomery Counties. Our technicians have even worked on projects in big Northeast cities, and have become accustomed to operating on strict timetables within competitive budgets. But at the same time, Tri-County has always tried to remain a small-town PA, family-run business, preserving the friendliness and unmatched customer service of our rural communities. As small-town PA homeowners ourselves, we know what it takes to keep a house looking good and functioning well. So whether you've got a town home next to Lenni Products, Inc., or own a rental property across town from the Lenni U.S. Post Office, if you are in need of general contracting services in rural Southeast PA towns like Lenni PA Home Remodeling, talk to Tri-County first and see why we've been a top-rated, family-run PA general contracting service for years.
Don't Take Our Word For It – Read From A Pile Of Testimonials From Successful Tri-County Home Remodel Clients
As a business, Tri-County has always relied on word of mouth and community support to grow and improve. On our website, new customers interested in Lenni PA home remodeling can read about our past projects from other community members in similar small towns, and see dozens of photos proving our level of detail and craftsmanship.
Prospective customers can see an extensive portfolio of successful home remodeling projects on our website, including basement, kitchen, bathroom and deck and flooring pics. Does your project involve hardwood flooring, heated flooring, garage expansion, open floor plan conversion or custom tile work? That's no problem for Tri-County General Contracting – our technicians specialize in all aspects of residential home remodeling from the sub-floor to the roof. Tri-County's catalog of general contracting services include:
Kitchen Design – Kitchen Remodeling
Bath Design – Bath Remodeling
Room Additions – Home Additions
Basement Finishing
Handyman Services
Window and Door Replacement
Plumbing
Electrical and Lighting Design
HVAC
Exterior General Contracting Services From Tri-County Include:
Decks
Outside Cooking Areas
Pavers
Patios
Pool houses
Gazebos
Screened in porches
Roof and siding applications
Access bridges
Want To Know More About Lenni PA Home Remodeling Options
From Tri-County General Contracting?
Give Us A Call Today At: