Why Entrust Your Cheyney PA Residential Remodeling Project To A Faceless Big City Builder? Hire Your Friendly Neighbors Tri-County Instead!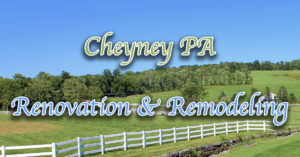 Our residential general contracting company has been achieving homeowners' dreams for decades now, always with that traditional small-town PA standard of customer service and care. Tri-County General Contracting is not a corporate big city builder, nor have we ever wanted to be. As a company, we've always returned to our roots when it comes to running an efficient, friendly and expertly trained staff of general contractors with ample experience in Cheyney PA Residential Remodeling.
For our customers in Cheyney, Tom Thornton and his team will be available around the clock to address any homeowner concerns. After all, Tri-County is located just a few miles south of Cheyney in Glen Mills, PA. Being a neighborhood general contracting service, we keep logistics simple for our customers; our construction team members live close by ensuring adherence to a tight construction schedule, and our project budgets are completely reliable because we are ourselves Southeast PA homeowners – we know the time and materials it takes to do a remodel right.
Tom Thornton and his team of builders will work with you to create a workable vision for your Cheyney PA Residential Remodeling project. And most importantly, Tom will personally oversee each step of the process to ensure 100% customer satisfaction. That's just how to we business here at Tri-County.
Affordable Cheyney PA Residential Remodeling Services From Southeast PA General Contracting Pros
Make the kitchen, bedroom, bathroom, basement or patio of you dreams a reality with Tom Thornton and Tri-County General Contracting's nearly 40 years of experience as a Southeast PA builder. Since our company began, we've been a multi-county leader in residential and light commercial construction, remodeling and renovation services, working hard to beautify hundreds of homes from Delaware to Chester and Montgomery Counties. Getting project quotes is easy – a quick call to Tom Thornton at 610-329-2880 will get all your home remodel questions answered, and give you a budget that can't be beat.
Tri-County has the tools, know-how and experienced contractors to get your project done right, no matter how tight your budget or time frame. But you don't have to take our work for it – just check out the testimonials from satisfied customers on our website to see what doing business with Tom and Tri-County is like. You'll find many stories from happy homeowners who made the smart choice of calling Tri-County first for their Cheyney PA Residential Remodeling needs.
No Matter Where You Live In Cheyney PA Residential Remodeling That's Fits Your Budget And Lifestyle
From Creek Road College Hill Drive, Tanguy Road to Westtown Road, Tri-County is the right contractor for your home improvement project no matter what type of Cheyney, PA residential remodeling project you have in mind. Maybe you have a family home near Meadowcroft Presbyterian Church with an outmoded kitchen, or a ranch house across town from Pete's Produce Farm that could really use a shaded patio space? Perhaps your home down the block from Cheyney University needs an addition for a growing family, or for seniors moving back in? No matter where you are in Cheyney, Tri-County is always close-by – just down the road in Glen Mills.
Want To Get Your Cheyney PA Residential Remodeling Questions Answered Now?
Call Tom Thornton & Tri-County General Contracting Today At