Tired of looking at the same old counter tops and cabinets? Feeling like this could be the year to build the kitchen of your dreams? Tri-County General Contracting is ready to help you make your kitchen designs 2016 dream a reality. After all, kitchens are one of the most important rooms in any house. Families spend a great deal of time together talking, cooking, and, for the busier families out there, eating on the run. Tom Thornton and his team will take your outdated kitchen space and liven it up with a sleek, comfortable and inviting design that is ready for 2016.
Remodel or Add-On, Get a Cutting-Edge Kitchen in 2016
Tri-County General Contracting has been building and renovating kitchens for decades now. We have an extensive portfolio of satisfied customers who enjoy their newly updated and streamlined kitchens every day. So give Tom and his team a call today, get a free estimate, and stop dreaming!
Hi-Tech Makeovers for Kitchen Designs 2016
It's 2016, well into the digital age, and the latest in kitchen designs come with welcome tech upgrades. Want a designated spot in your kitchen for smart devices? Tri-County General Contracting will work with you to design a kitchen with hidden charging stations to store and charge phones, tablets and personal computers so they are always charged and within arm's reach.
Tired of your old, clunky dishwasher? Had enough of refilling ice-cube trays by hand? Take advantage of recent advances in smart appliances, like refrigerators with touch screens on the door to help keep track of groceries and make going to the market a breeze.
Want to rock out to your latest tracks in the comfort of your kitchen? Consider having Tom and his team install a Bluetooth surround sound speaker system in your new kitchen, which can by synced to your favorite computer or mobile device.
Highly advanced kitchen designs 2016 feature sensor-activated lights that illuminate the kitchen when someone walks in. They can also utilize automated, hand-free faucets, great for homes with small children who can't reach the faucet handle, or in homes where cooking involves lots of sticky, messy hands.
The More Shining Metal, the Better
Many interior designers agree that metallic finishes are becoming one of 2016's biggest kitchen design trends. Whether it's a subtler look of metal, such as faucets, pendant lights or cabinet handles, or a large, bold brass or bronze range hood, the look of metal in a kitchen can add a burst of contrast to otherwise soft textured, plain white or gray walls.
Kitchen Designs 2016 • A Space to Cook, A Space to Relax, A Space to Gather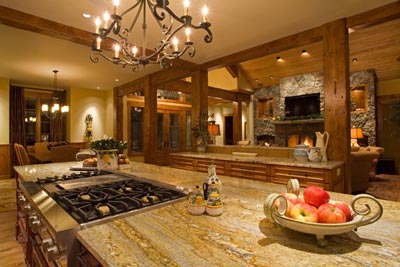 Lately, our customers have often asked for our kitchen construction and remodels to include a space for entertainment and informal gatherings. We believe that a large and well-planned kitchen upgrade can allow more time for a busy family to connect. It can also allow for more family members to participate in cooking and serving meals.
State-of-the-art kitchens, according to many top interior designers, merge cooking and living spaces. This is done by removing conventional barriers between rooms, and locating furniture and entertainment systems within the boundaries of the kitchen space.
Give us a call today to get started building your new kitchen!