Hire a contractor first to assess the storm damage repair. Then have them meet with the insurance adjuster when they come to the home.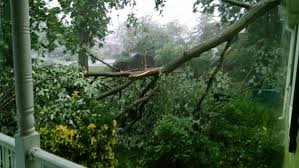 I know how scary storm damage can be. I live in the Concordville area in Delaware County PA.  We had a small tornado come through our property at 960 Smithbridge Rd, Glen Mills PA back in the 90's (just a few miles down the road from the Garnet Valley School District). We are surrounded by many old growth oak, maple, and walnut trees and have repaired the damage from them falling on my homes and many of my customer's.  We are always busy after large storms, as many of our existing customers call us to fix their homes with tree, water, wind, and hail damage.  We help negotiate the repairs and cost of repairs with your insurance company so you can get your home fixed the right way, and back to 100%. Don't get stuck with a Band-Aid fix. Hiring an independent contractor should be your first step even before calling your insurance company!
Recent Storm Damage News – Click Here
Storm Damage Repair Starts by Calling Your Contractor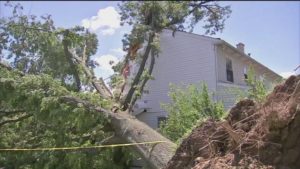 Most people are quick to call the insurance company the minute something gets destroyed in a storm or water damage is found in the home.
It's not the best idea to call your insurance company before you really know what the extent of the damage is.  It is the insurance companies job to give you the smallest amount of money needed to repair your home, and adjusters are not going to fix anything they can't see.
If you don't know the true extent of the storm or water damage, you CAN NOT simply leave it up to your insurance company to figure things out. Chances are the first adjuster your insurer will send will be new (green) or from and have no real experience in home construction.  They will be ill prepared and unequipped to really find the true extent of the damage. After major storms there are so many insurance claims that companies don't even have enough adjusters to help their insured, sometimes they are flying in new recruits from out of state. This means they may come from an area with completely different building requirements and costs. Any questions or re-evaluations will be looked at as complicating and slowing your claims process, in the end many customers don't even get a third of what their true repair costs are from their first insurance appraisal.
Let Tri-County be your Agent for Dealing with Your Storm Damage • Dealing with the Damage is Head-Ache Enough!
Example Schedule of Storm Damage Repair with Tri-County General Contracting
Day 1.
Call Tri-County and meet with me, Tom Thornton
Schedule any needed emergency services.
Discuss the scope of storm repair and what hidden damage may be present
Come up with a plan of attack for explaining the Real Costs and Real Repair Time to the Insurance Adjuster.
***Adjusters work with estimating software that works on hourly bill rates for individual parts, they both underestimate hours and cost of labor and material.***
Week 1.
Receive Estimate of Repairs from Tri-County
Meet with Adjuster and Tom on site, explain the full extent of damage and repairs.
Week 2 .
Receive First Fare Disbursement from Insurance (Usually 2 to 3X initial Adjuster only Claim)
Start Repairs on home from Wind Damage, Tree Damage, Hail Damage, etc.
Find any hidden structural damage found by removing debris or demolition.
Set Schedule for true repair time and submit add-ons to insurance company.
Negotiations with the insurance company.
Week 3 -.
Finish storm repair work.
Submit final costs to insurance.
Negotiate with the insurance company.
Example Schedule of Storm Damage Repair without initial Contractor Assistance
Week 1.
Call Insurance and meet with adjuster.
Insurance recommends cheap "Emergency Clean-up Service"
Adjuster comes and takes pictures and notes and leaves. **Sometimes cuts a check on the spot.**
Week 2.
Receive low ball offer appraisal that won't even cover the costs of getting your repairs started.
Call Insurance Company and schedule a second adjuster.
Week 3.
Meet with adjuster they usually bump up the price a little, and tell you to find a contractor. Some insurance companies even have cut rate companies they will suggest for bid.
You either use insurance companies contractor or you hire one yourself.
Week 4
Receive Estimate from Contractor and try and negotiate with insurance for a higher price, have to schedule another meeting with contractor and adjuster.
Possibly get job started if insurance has supplied enough money.
At this point you can see, going straight to your insurance can really complicate and lengthen your storm repair.
We have seen jobs that can get accomplished in a week or two get drawn out into months by insurance companies (Years if you count Super Storm Sandy).
 Don't let it happen to You! Be Proactive with Your Storm Damage Repair. We're Here to Help!