Email your testimonials to [email protected] or review us online at your favorite social media forum.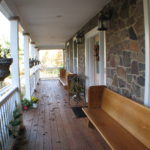 Testimonials
Misiewicz Family
Aston, PA
The highest rating shown on the current scale is '5 Star'; however, we would like to double the rating and give Tom Thornton and his team a '10 Star'.  We can't say thank you enough to Tom and his team.  We so appreciate the diligent, hard work and dedication of Tom, as well as his team that cultivated into a beautiful remodel of our home.  Tom, not only scheduled and directed everyone involved as there were many moving pieces to this remodel, Tom also was involved himself, doing part of the hard work. Tom and his team kept us informed of each step along the way.  A better contractor could not have been chosen.  Tom's experience and work ethic resulted in a spectacular remodel that we are so happy to enjoy each and every day.
We have been in our bi-level family home for 50 years and decided with our son and daughter-in-law that an upgrade, which turned into an almost 100% redo would be the best for the future.  It was necessary to no longer have a garage which was turned into a stunning bathroom, practical and great walk-in closet with pocket door, as well as additional safe, living space for our relaxation and needs.  Matching brick to close up the garage door was recessed to look dimensional around the new lower entry door off the driveway.  The upstairs was creatively reconstructed to one huge open space, with no more walls in the kitchen and dining room!  Added was a spectacular water fall granite island which gave it a wonderful creative look with a divisional purpose. The roominess is fantastic and airy.  The new wooden, stained railings along with new steps and risers plus new flooring upgraded the remodel to a current, modern look from the way it was for 50 years.  A spectacular portico with columns accented with matching brick was added above the new main entrance that accents the new beautiful blue door and side lights.  This portico will not only give shade but also protection from heavy rain and the winter's snow and ice.  There was more done and Tom has pictures for any inquiries.
We are so happy with the finished results of the remodel and would recommend Tom Thornton to everyone who asks, which we have already done.  Sincere thanks again, Tom.  It was a pleasure working with you and your team.  May you have many new clients in your portfolio today and in the future.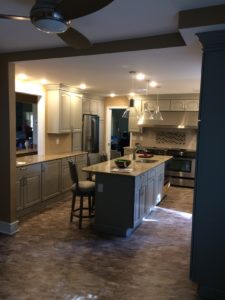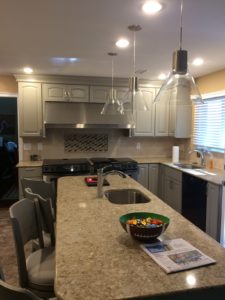 The Hine Family
Aston, PA
We wanted to update our kitchen and make our master bathroom safer. We could not have picked a better contractor. Tom Thornton and his crew became almost part of the family during the project. Tom was attentive and receptive to all of our designs and wishes. There was a certain "can do" attitude about any change or issue. He demonstrated sound problem solving skills whenever something unusual turned up. Believe me that happened in numerous cases on our job. Tom thoroughly ran the project and revealed his extensive knowledge over a wide range of remodeling topics. He brought superior skills to all areas and his meticulous attention to detail was remarkable and a constant force during the renovation. Tom brought our vision to fruition and we could not be any happier with the final result. Our kitchen and bath remodel meets and exceeds all of our expectations. Tom Thornton is the Man!
Thanks again.
Dave & Susan Hine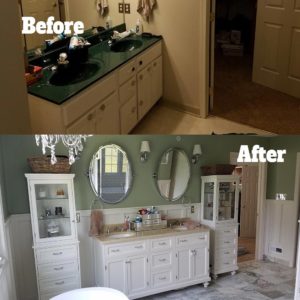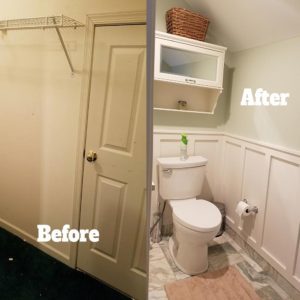 Eric and Carly Lloyd
Downingtown, PA
Tom and his team did an amazing job re-modeling our bathroom. We did a total gut down to the studs, shifted plumbing water supplies and drains, electrical outlets, switches, and lights, and the job was done right. His team took care of tiling the floor, shower pan, shower walls, and building custom wainscoating and matching bench to complete the look. This could have been an extremely stressful project, but Tom's team was great to have in the house and they made sure that we were happy with all aspects of the work. In the end, our bathroom is even better than expected. We would not hesitate to hire Tom again for our next project.
Jim, Helen and Ciara Kain
Glen Riddle, PA
After a fire that totaled our house, Tom Thornton and Tri-County General Contracting helped us rebuild from the foundation up. Tom provided an enormous amount of help to us in planning, working with the township, negotiating with the insurance company, designing (finding us a wonderful architect), and of course putting together a beautiful new house. Tom is a pleasure to work with. He is honest, generous with his time and expertise, fair in pricing, flexible with the plans, and proud of the quality of his work. His teams were equally professional. They did quality work in a timely manner. They were courteous, caring for the property, cleaned up at the end of each day; they were responsive to our questions, and their work consistently matched Tom's high expectations. Tom promised us that he could build the house in 3 to 4 months – and he met that goal, in spite of delays and set backs with inspections and insurance issues. We've been in the new house a year now, and we love it. We have nothing but high recommendations for Tom Thornton and Tri-County General Contracting.
Susan Getz – Owner of United Tire Concordville
Garnet Valley PA
Hiring Tom was the best decision I ever made. He made life easier, listening to his ideas and suggestions. He helped me in picking out difficult products with no stress. His crew shows up when they say, and thats huge for me . He is their to the end, right to the last detail and never drops the ball. Just hired Tom again to do my hallway bathroom and master bathroom. Can't wait to see the finish product. Would suggest to anyone; hire the man. He is a man of his word.
Thanks Tom
Sue Getz
Donna M. Reeves
Thornton PA
Tom Thornton has been a dear friend of mine for over 40 years.  You will not find a more honest, hard working,courteous,caring man….add this to his quality workmanship and commitment to a job – why wouldn't you hire him to take care of your needs. He has done work for my family and I for years and we have ALWAYS been happy with his work.
Thank you Tom,
Donna M. Reeves
Sarita Trivedi
Concordeville PA 
I am a registered Architect. Tom and I have worked on several projects together. At all times I have found Tom to be diligent and enthusiastic, demonstrating high level of workmanship. Due to his vast experience, he is also very knowledgable about all building trades and the construction process in general. We have bounced ideas off of each other, during the design stage leading to value-engineered smooth running projects that have been in the best interests of the client. Tom also exhibits a lot of persistence and determination. In a project where the house had burnt down, Tom spent a lot of time working with the insurance company, well beyond what was required by his construction contract. I would recommend Tom!
The Adams Family
Glen Mills, Pa
I can remember the day my wife and I decided to turn into Hickory Hollow to see what was through those stone pillars at the entrance of the long drive.  As soon as we pulled into the stone driveway and viewed the awesome land, we felt that this was the place we wanted to build our home.  Tom Thornton, owner of Tri-County General Contractors, was the land owner and had a great reputation as a builder.  From the start, Tom was patient and took the time to help us find the home design plans that fit our visions and made sure that every room from the basement to the attic turned out the way we wanted them to.
When it came to budgets and finances, Tom was also very helpful.  We had meetings onsite and Tom would also come to our home in Springfield, to discuss the progress and to review the budgets, as well as any changes that made sense as the building progressed.  I can remember one day driving by the house and it was raining pretty hard that day.
I can recall thinking that the roof was not completed and the wood was going to be soaked to the core.  To my surprise, there was a huge Blue tarp covering the whole house frame and cardboard cutouts to fit the window openings.  Tom actually had the complete house protected from the elements, so the interior wood was not getting soaked a bit. How many times in your life's journey, do meet a person or company that would go to that extent to protect a project. This was just one of many actions that showed the pride and the caring that Tom displayed with our home.
We have been in our home for over 14 years now and would recommend Tom and his company to anyone who is looking for honest, prideful and quality workmanship that withstands the test of time.
Thanks Tom for all your help!
Sincerely,
Bob and Joanne Adams
Jerry and Ruth O'Connell
 Newtown Square, PA
Our House Renovation
My husband and I were thrilled with our little ("retirement house") rancher. Then a family emergency forced us to take in our daughter and a disabled grandchild. Not only did we need a bigger house, we needed a house equipped to handle a disabled person. Tri-County General Contracting had converted an outdoor porch into a beautiful rec room w/fireplace a few years before, so we immediately called Tom Thornton and his crew to help us again. It was a huge job, but Tom and his helpers arrived faithfully every day for months and months. The men who worked on our house were wonderful with our grandchild, and we quickly considered them "friends" rather than workmen. The day our house was completed, I was actually sad to see them move on to another job. Unlike some other builders, who leave a job to run out and work on another, Tom and his men were on our job every day until the job was fully completed. Our "new house" is beautiful and strangers have come knocking on our door asking for the name of our contractor. We always tell them to call "Tom the Builder" at "Tri-County General Contracting".
Dave and Kyrsten Bourdon
Garnet Valley PA  – From Hong Kong
We first met Tom when we were looking to have our breezeway enclosed and turned into a mudroom/laundry room.  Of the contractors we spoke to, he was the most willing to work with our ideas, offer some of his own and keep within our budget.  His workmanship was fantastic and he worked well with all of the inspectors.  The workers Tom employs are hardworking, friendly and trustworthy. The mudroom/laundry room was everything we could've hoped for and more.After that experience we came to know Tom pretty well as we would call on him to resolve other minor problems that arose with our house.  Therefore he was the person we called when it came time to move and we had to deal with issues arising from the home inspection.  We were moving out of the country and needed things taken care of quickly and by someone we could trust as we were no longer there.  Tom was a huge help in dealing with the relocation company and resolving all of their issues.  We never could've taken care of it all from Hong Kong without Tom's help.We have recommend Tom and Tri-County General Contracting to many friends and neighbors and continue to do so without hesitation.
Tom, if you have any pictures of our mudroom that you would like to include please feel free to do so.  If we are ever living back in PA you know you will be the person we call for any work! Josh, great job on the website!
Dave and Kyrsten Bourdon
Norman & Gerri Morris
Lansdowne, PA
I am writing this letter to thank you for the professionalism and courtesy that your company exteneded to us from the beginning of the job until you finish. You did an excellent job and now I have a brand new look to my home thanks to you. The most important thing to us was that you came and got the work done in a timely manor.
Once again I can't express enough on how happy we are that we got your company to do the job and if you need us for a reference please do not hesitate to give out our name and phone number.
A very happy customer, Norman & Gerri Morris
The Dibona Family
Drexel Hill, PA
We always recommend Tom Thornton and Tri-County General Contracting to all of our family, friends and neighbors. Tom designed our beautiful new kitchen and addition for us. He stayed within our budget and was true to our projected timetable for completion. We also found his crew to be reliable, on time and they even cleaned up the work area daily!
Tom's eye for detail and superior craftsmanship made our experience with Tri-County General Contracting a pleasure. He listened to our ideas and created a space that turned out to be much more than we could ever have imagined, and one that we enjoy every day!
Thanks so much, The Dibona Family
Rose and Vince Kane
Chester Heights, PA
Dear Tom,
We just want to say thank you for the wonderful job you did on our beautiful new kitchen addition. After twenty-five years with our very, tiny kitchen, you helped to make our dream kitchen a reality.
Your help with planning and suggesting ideas was wonderful. We love the fact that you were on the job every day as agreed from the beginning of the project to its completion.
All of your work, from carpentry to tile work, was done with great professionalism and craftsmanship. At the end of the day, you always managed to clean up whatever you could to help us bear the stress of living under a major construction project.
So thanks to your great work, we truly are enjoying cooking, entertaining and dining in our new addition!
Michael Montello
Wayne, PA 
Sunroom and Bathroom Remodel
We contracted with Tri-County to completely remodel a sunroom and full bathroom. Several contractors were included in the bidding process, and we selected Tri-County and Tom Thornton based on his knowledge and experience, professional and service-oriented personality, and competitive price. In the Sunroom, Tom installed 12 casement windows, a french door, and framed and dry-walled 4 walls and ceiling. Vinyl siding was installed on the outside. The floor was leveled with concrete and he installed a wood floor. The bathroom was completely gutted, the configuration of bathtub was changed and plumbing modified, and tile work was installed on the walls and floor. Other contractors told us our design could not be accomplished. But Tom was able to build exactly what we envisioned so we could take advantage of our small, 7×8′ full bathroom. We also chose Tri-County because we felt we could trust Tom Thornton with the remodel while we were out of the country, and he proved to be very trustworthy. Tom kept us informed of the progress, requested approval for any scope or material changes, and was very responsive when we needed to discuss any questions or issues. When the job was completed, Tom continued to be responsive to questions. Tom handled unexpected issues promptly as to not impact the schedule, including reframing two walls due to a carpenter ant infestation. Most importantly, he completed the project on time before our move in date. He knew how important it was for us to move in on the date we planned, and he put in a series of long days and nights to complete the bathroom prior to our move in date. At the same time, I was also remodeling the kitchen and doing much of the work myself. As a new homeowner, I didn't know how to efficiently complete what I signed up for. Tom proactively helped me with his knowledge and also whenever I asked. Tom used competent sub-contractors. The plumber I have actually re-hired for another job. I will use Tri-County in the future and also highly recommend them to family and friends.
Nick Peracchia
Springfield, PA
2 Story Addition with new bath, renovated bath, 2nd floor laundry and more…
Tri-County General Contracting was hired to build an addition on our home. The addition was to be 2-story with a 1st floor mudroom, new full bathroom, family room; the 2nd floor was to have a new bedroom and a laundry room. In addition, the scope included a new roof for the whole house and a total renovation of an existing bathroom. We hired Tri-County after a competitive review of three contractors and while Tri-County's pricing was very competitive, Tom Thornton was clearly more prepared to discuss our scope in detail which gave us great confidence in his abilities. In the end, our addition ended up being better than we had originally planned and we attribute that to Tom's knowledge and skills. At the beginning and throughout the build process, Tom was able to provide us with a lot of ideas and suggestions based upon his many years of experience. Many of these ideas did not necessarily drive up the cost as much as significantly increase the functionality of the home. We feel that we clearly obtained a significantly higher "bang for our buck" as a result of hiring Tri-County. As mentioned in another review, we also experienced the same considerate scheduling and behavior where Tri-County took the time to minimize the impact to our on-going life through the process. Breaking through to the existing house, shutting down the only existing bathroom, working with neighbors (we have a shared drive-way), and many other small yet significant matters were well thought out and executed to our complete satisfaction. At no point did we feel less than comfortable with Tom as it was obvious that his focus is on doing a GREAT job at a fair price. We certainly feel that way and will be recommending his firm when folks inquire. In the business of Home Contractors, we all hear the horror stories, but our experience with Tom Thornton and Tri-County has given us the new benchmark for great execution and final satisfaction. In a world where price, quality and schedule rarely come together to the satisfaction of the customer, Tri-County pulled it off…and yes, we would certainly call Tom again.
Colette and Jim Brown
Glen Mills, PA
Tom put a large kitchen/family room and office addition on our home in 2006. With many contractors, there are significant delays in the start time and completion time of the project. Tom started the project exactly when he told us he would. He was accomodating and kept all of the work outdoors until after right after the Christmas holidays for us. Right after New Year's he broke through the house and worked hard to minimize the disruption to us. We had him completely gut our kitchen and put a big addition on. Yet, we were only out of our kitchen for a couple of weeks. Tom's attention to detail was impeccable and we were thrilled with the quality of the work. He offered great suggestions throughout the project which we wouldn't have thought of ourselves. Our roof design was not quite complete, but Tom actually picked up where the architect left off and figured out how to craft a complicated roof design and integrated it with our existing roof line. He was meticulous in his work and in minimizing the mess and disruption in our home. He finished the project right on time. He and his team were a pleasure to work with. We would highly recommend Tri County Construction.