Many homeowners find themselves with the conundrum of how to jazz-up a lackluster space without breaking the bank or having to miss a mortgage payment. If you, like many others, are considering updating an archaic, energy-sucking windows or two we highly recommend the installation of a bay, bow or garden window to instantly brighten up your space. These chic restoration options allow you to pull the beauty of nature and abundant energy of the sun right into your home! Requiring minimal upkeep and maintenance, the energy efficient design of these windows lower your monthly bills and add a classy element of design to absolutely any room.
Bay and Bow Windows
If you are looking for a simple yet effective way to bring in more light and a touch of elegance to a room that could use a mini-facelift, a bay or bow window is the perfect choice. A bay or bow window will lead your gaze to the landscape that lies outdoors while simultaneously opening up the indoor space. Although the two options offer similar benefits, there are some key differences to educate yourself about.
Bay Windows
Bay Windows typically have one large picture window surrounded by two smaller window panels placed at an angle and protrude a bit outwards adding interior space and a sleek, modern look. This design allows light to pour in from three angles while adding dimension.
Bow Windows
Offering more of a softly curved appearance, the bow window will flood the space with natural light -usually through four or five separate window panes forming a semi-circle. Because of their unique shape, bow windows can also wrap around two corners of your home creating a cozy nook with an expansive view.
Garden Windows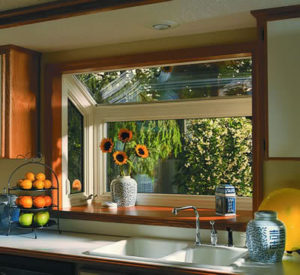 Serving a purpose of both form and function, a garden window is a highly customizable, secure and sophisticated option for those wanting to showcase the gift of a green-thumb. Energy efficient window panes and easily accessible handles make the garden window incredibly user-friendly. Allow your mini-garden to have year-round access to the sun, even during the brutal Pennsylvania winters. Trust me, your herbs and houseplants will thank you for not being covered in ice by thriving even in February especially if your Garden Window is facing south.
A practical and affordable choice, the Garden Window works especially well in a kitchen or den, but like the Bay and Bow Windows, can be worked into any room of your home. The side windows can give additional air flow when wanted and create a sense of openness and a heavenly garden-like setting each and every day.
From adding an entire sunroom  to single bay, bow or garden window installation to your home, contact me for all of your home remodeling needs. My team and I look forward to assisting you on your home improvement journey.
Call Today for a Free Estimate for Your Bay, Bow or Garden Window