Big Holiday Meals Are Just Around The Corner. Is Your Kitchen Ready?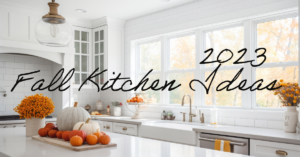 The holiday season always puts a burden on the kitchen, perhaps more than any other room in the home. Suddenly things like space in the fridge, space in the pantry, counter workspace, proper appliances, and the number of dishes that can be cooked at once become important factors. Don't let this holiday season be more work than it has to be – let Tri-County General Contracting's Fall 2023 Best Kitchen Ideas help you revamp your kitchen into a sleek, open, accessible and welcoming space that can easily handle the holiday rush.
Here at Tri-County, we are always thinking of ways to better utilize the space homeowners have to work with. Taking into account the high traffic, large and complex meal preparation and food storage demands of holiday cooking, we've come up with this list to offer smart, simple ideas for Fall 2023 kitchen remodels in Southeast PA.
Tri-County's Fall 2023 Best Kitchen Ideas Include:
Repaint Interior With Bright Fall Colors: By choosing rich gold, red, and green harvest colors that reflect the changing season, you can bring the beauty of the outdoors into a cooking space.
Build Additional Pantry Space: Thanksgiving Dinner and other holiday meals require extra space to stock dry ingredients. Building an additional in-wall cabinet or pantry room addition off the existing kitchen will mean plenty of organized food storage.
Replace Countertops & Appliances: Since you and your family will probably be doing a lot of cooking in the near future, why not spring for that stone countertop you've always dreamed about, with built-in 6-burner range and pull-out cutting boards? Quartz and granite countertops are durable, luxurious and require very little maintenance.
Add An Island: Adding an island counter with drawers in the center of a kitchen can free up plenty of working room and supply storage for rarely used kitchen tools. They can store under-counter appliances, and even provide a seating and serving area for casual dining or a "kid's table."
Install Heated Floors: Winter is right around the corner, and for those barefoot breakfast cooking sessions, a radiant-heated kitchen floor will make the room attractive for the whole family to congregate in.
Add More Natural Light: As the days get shorter and less natural sunlight enters your home, consider hiring Tri-County General Contracting to install skylights in the roof above the kitchen. This will also help a home's inhabitants enjoy the kitchen space more by allowing them to cook for more hours of the day without artificial light.
Replace Old Or Drafty Windows: A large percentage of a home's heat loss in winter months is through its windows. Replace kitchen windows with energy-efficient, insulated windows and feel the difference it makes in a kitchen's coziness.
Want To Hear Other Fall 2023 Best Kitchen Ideas
From Tri-County General Contracting?
Give Us A Call Today At