Just like with windows, you want patio doors that are energy efficient, have high-quality materials, allow multiple design options and display long-term beauty and durability. But there are other considerations you should take into account when you're considering a patio door replacement.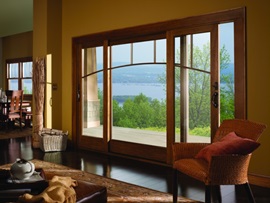 If you're replacing a gliding patio door in your home, you may want to consider a hinged patio door instead. It gives you the option of having two doors that can open. No matter what size your current gliding patio door is, we can install a hinged patio door that will give you a perfect fit.
Patio Door Replacement Adds Value to Your Home
Patio doors can add more to your home than a convenient way to come and go. The right patio doors enhance the beauty of your home as well.  It is easy to coordinate your door hardware with other features in your home, such as lighting, cabinetry hardware and other decorative fixtures.  Anderson's Frenchwood® inswing doors even let you match your hinge finish to your handle set, for a fully integrated look.
Check out Anderson's Patio Door Selections here…   http://www.andersenwindows.com/planning/diy-library/patio-door-replacement-installation
Patio Doors are usually the main exit and entrance to the homes outside entertainment.  Do you have a yard that seems un-interesting because you only have a small hard to roll slider for access? Replacing that old slider door can open up a new world for your living space. Adding a new door could just be the beginning, Tri-County can offer you many designs from decks to brick patios, to full outdoor cooking areas with integrated fire pits and sound systems. Let us help you build the home you dream of.
Call us Today for a Free In-Home Estimate