From Chester Creek To Ridley Creek, Dutton Mill Road To Parkside, Tri-County General Contracting Is Your Go-To Brookhaven PA Home Contractor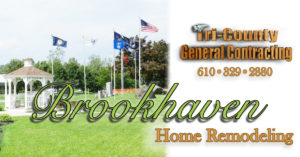 No other Southeast PA home contractor knows the meaning of small-town customer service better than Tri-County General Contracting. Just ask our numerous satisfied customers in small PA towns like Brookhaven about our business model, and they'll tell you Tri-County as a Brookhaven PA Home Contractor always puts the customer first. Doing a new home construction or remodel with Tri-County isn't like dealing with the faceless, corporate big-city builders in Philadelphia or New York. Tri-County is a family-owned business that has served small Southeast PA towns with quality home contracting services for nearly four decades, and it treats each project as a home, not just a house. Tom Thornton and his team of contractors are themselves rural PA homeowners, and they know what it takes to build and maintain homes in the Northeast.
Want to know more about the home contracting work we do in Brookhaven and many other Southeast PA towns? Check out our long list of testimonials from everyday small-town homeowners who noticed the difference when they chose to build with Tri-County. From kitchens to bathrooms, bedroom additions to custom homes – basements, decking, flooring, sunrooms, you name it, Tri-County is here to help Brookhaven PA homeowners build the perfect space. For a complete photo collection of these project and more, browse Tri-County's online project portfolio.
No Brookhaven PA Home Contractor Job Too Big Or Small For Tri-County
Located just a few miles down the road from each other, our team of contractors here at Tri-County General Contracting and the residents of Brookhaven PA are practically neighbors. We are here to offer quality home contracting services from trained builders, no matter how big or small the project may be. Perhaps you have a modern townhouse near Tom Jones Restaurant that needs a bedroom addition, or are thinking of redoing the kitchen in your ranch home across town from The Shoppes At Brookhaven, or have a rental property in need of a total interior revamp down the block from Ohev Shalom Cemetery – our contracting team is happy to talk to you about building options that fit the scale and budget of your project.
Tri-County's Exhaustive List Of Home Contracting Services Includes:
INTERIOR
Kitchen Design – Kitchen Remodeling
Bath Design – Bath Remodeling
Room Additions – Home Additions
Basement Finishing
Handyman Services
Window and Door Replacement
Plumbing
Electrical and Lighting Design
HVAC
EXTERIOR
Decks
Outside Cooking Areas
Pavers
Patios
Pool houses
Gazebos
Screened in porches
Roof and siding applications
Access bridges
Have A Good Project In Mind For Your Brookhaven PA Home?
Looking For A Good Home Contractor To Get The Job Done Right?
Give Tri-County A Call Today At: