Beautiful Home Remodel Services Done Right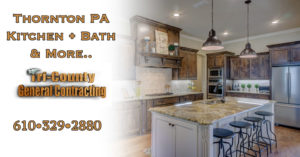 The name says it all! Tom Thornton and his team of builders at Tri-County General Contracting, based in Glen Mills, PA, have shared a long, happy working history with the surrounding Chester, Montgomery and Delaware County communities like Thornton, PA; heck, they even share the same name! That's because Tri-County was practically born in Thornton's (the town's) backyard, and has grown over the past three decades to become a Southeast PA go-to contracting company. Tri-County makes home remodeling Thornton PA 19373 a fun, creative and stress-free experience, assuring our customers that projects are on-time and within-budget, and creating for them the beautiful home of their dreams.
Tri-County's catalog of services covers all the residential remodel bases, whether it's interior work you need done, like kitchen remodels, bathroom remodels, home additions, basement finishing, window and door replacements, plumbing, electrical or HVAC, or exterior work like decks, outdoor cooking areas, pavers, patios, pool houses, gazebos, screened porches, access bridges or roofing that demands attention. For a complete list of Tri-County's Home Remodeling Thornton PA 19373 options, check out our services page.
Tri-County Has The Tools, Expertise and Manpower To Tackle Any Home Remodeling Thornton PA 19373, From Thornbury to Middleton
No matter where you live in Thornton, PA, and no matter the size of your remodel plans, quality home renovation services are just a phone call away with veteran general contractor Tom Thornton and his team at Tri-County. Have an old colonial home near Thornton Village's Historic District that needs a makeover? Or perhaps you are preparing to sell a ranch house up Glenn Mills Road next to Thornbury Park? Maybe you just bought a family home across town from the George W. Hill Correctional Facility? Regardless of what your home remodel project calls for, Tri-County is Thornton PA's trusted name in industry-leading general contracting services.
A lengthy list of satisfied customer testimonials from all over the Southeast PA Tri-County area can be found on their website. Go ahead and skim through some, and see what local Thornton-area homeowners like you are saying about Tri-County's craftsmanship, professionalism and can-do attitude. After all, they've built their home remodeling and general contracting business on a reputation for satisfied customers, so go ahead – give Tri-County a call today, get a quick, free home remodeling quote for your next project, and get the ball rolling on turning your dream home into reality with an expert local builder on your team.
Have More Questions About Tri-County General Contracting Services in Thornton, PA?
Give Tom And His Team A Call Today At