The long, hot days of another southeastern PA summer coming to an end. We will all be spending a greater amount of time indoors. If you have 2017 bathroom designs on the agenda for autumn, why not start with everyone's favorite hideaway, the bathroom!
Custom Bathroom Renovations
You are simply designing or completely redesigning your bathroom for 2017. We'd like you to know,  Tri-County General Contracting is the most trusted remodeler in the area. Master bathroom or powder room, lavish redesign or small budget- we guarantee to maximize space, light and style in your home.
2017 Bathroom Designs • Individual Taste
Create a true sanctuary by using a neutral color palette on tiles, floors and wall space alike. Prefer bright and bold? We can create a backsplash or tiled shower that really makes a statement. Our contractors have access to endless premium materials including tiles, fixtures, flooring, glass panels, shower heads, paint and much much more.
Another idea that screams "2017 Bathroom Design" is to use wood in creative ways to add warmth. Just think how gorgeous a backdrop of elegant, smooth lumber would be near a clawfoot bathtub. Modern wood design can also be incorporated into your sink area or closet space.
Speaking of Closet Space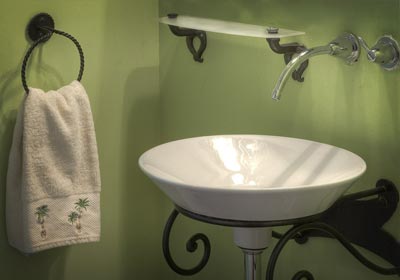 A cluttered bathroom can never look completely modern or organized. A great option is to add secret storage compartments for unsightly items such as hair dryers and miscellaneous beauty products. Only display the items in constant use, you will make such a difference in bathroom space and it's clean appearance.
If you have a bit of room or floor space to play around with, installing a linen closet will work wonders for organizational needs as well. Call us to set up a design consultation and tell us all about your (or your significant other's) storage needs.
Tubs and Toilets
Ah, alone time…sometimes the only place to seek solitude in a busy house is a soak in the tub or seat on the ivory throne. Imagine how much more you would enjoy a bath if you had a Jacuzzi tub complete with massaging jets and space for a pillow. Slightly less romantic but useful nonetheless is installation of a water-saving toilet. There is no excuse for not including a water efficient toilet in 2017 Bathroom Designs, such a feature is great for your wallet and the environment.
Stall no longer- contact us at Tri-County General Contracting to get a head start on your bathroom redesign project, leaving plenty of time before winter for your kitchen!
Heritage Style
Why not go for the look of old in the new year? Period fittings can give your bathroom a sense of timeless elegance, and make your friends and family feel like they just stepped into a bathroom from a time long gone. These vintage-inspired glamorous bathroom styles are enjoying a big revival thanks to the surge in popularity of historical period TV dramas like Downtown Abbey or Boardwalk Empire. A heritage style bathroom brings timeless elegance with features like roll-top baths, sculpted sanitary ware and classic heavy brass fittings. Our expert contractors can adapt these styles to any property; whether a brand-new home or a bona fide Victorian estate.
Since the popularity of vintage-style bathrooms seems to only be growing and growing, the homeowners has a great deal of choice when it comes to Victorian and Edwardian-style reproduction fixtures and fittings. Here at Tri-County General Contracting, we are experts at hunting down suppliers of antique-looking bathroom fixtures. Look out for manufacturers such as Drummonds, whose designs are based on historic drawings and traditional construction methods.
We advise our clients to only take the elegant and simplicity of the past when it comes to bathroom fixtures, and to leave the less-admirable parts behind. After all, who really wants to contend with the headache of actual Victorian plumbing? Loos with eco-flushes, vintage shower fixtures with state-of-the-art climate control interfaces, and turn-of-the-century washtubs with modern plumbing advances like silicone gaskets and plastic piping are all great compromises.
The New Look Of "Going Green"
Introducing living plants and even green walls into the interior decor of a bathroom space has become a highly popular modern design. Though creating a suitable environment for living, breathing beautiful flora in the interior of a house can be a challenge, the benefits gained can be huge as well. After all, plants clean the air, add fresh oxygen to a room and filter our everyday pollutants. They massively benefit the health of ambient air with the release of phytochemicals. These organic chemicals suppress mold spores and bacteria in the air naturally. Plants also can balance the humidity of a room – very useful in centrally-heated houses known for their dry air. Our contractors here at Tri-County General Contracting can offer suggestions about layout and applicability when it comes to incorporating bathroom plants.
Color and Texture: Less Is More
Though we can all accept that bright, flashy, shiny colors and textures are quick to gain our attention, it is not always a good idea for an ideal bathroom aesthetic. In many ways, gaudy is out and clean, plain, neutral colors are on the rise in terms of popularity. Matte, nude and neutral colors with few bold highlights can really achieve a calm and non-intrusive look. Dark greys have become highly popular tile and surface finishes, as the subtle color helps emphasize small, modest splashes of bright color in the bathroom.