Looking For Quality Home Remodeling Contractor Services in Swarthmore, PA? Look No Further Than Tri-County General Contracting!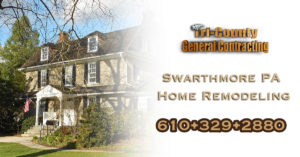 Tom Thornton and his team at Tri-County General Contracting specialize in small-town southeastern PA home remodeling. We our ourselves are small-town PA homeowners, and we know what it takes to get a one-of-a-kind home remodel done quickly and economically in this market, and in this region of the Northeast. As a Swarthmore PA Home Remodeling Contractor, we treat your home like our own, and give you the same quality of workmanship and materials that we would put into our own home remodel. Whether its a kitchen revamp, a bathroom addition, a garage completion, a new interior, a complete floor to ceiling remodel or anything in between, we are rural PA's go-to home remodel contracting service.
Tom and his team will personally answer any questions you might have about the home remodeling process, or about our qualification as a Swarthmore PA Home Remodeling Contractor. Our prospective customers can browse our portfolio of successful home renovations on our website, as well as read testimonials from the countless satisfied customers that we've gathered over the past 30+ years getting southeast PA families the homes of their dreams at prices they want.
Why Chance It With A Questionable Swarthmore PA Home Remodeling Contractor? Hire Tri-County Instead And Get It Done Right The First Time
Tri-County General Contracting has a long history in this community of customer service and quality craftsmanship. Based in Glen Mills, PA, our team of contractors are practically neighbors with Swarthmore PA customers – just a 10 mile drive down Highway 1 will brings us to your house during the renovation process, ensuring our contractors are always on time and ready to go.
Why trust a big corporate builder with your home remodel project? Whether you have a ranch house down the block from Swarthmore Co-Op that needs a makeover, own a townhouse near Swarthmore College, the city's namesake, that needs some extra space for relatives, or operate a rental across town from Swarthmore Public Library with an interior that's past its prime, Tri-County will give you the hand-on, face-to-face customer service based contracting service that you'd expect from a family-owner, neighborhood team of home renovation contractors. So why wait? If you've got big home remodeling plans, give Tom Thornton and Tri-County General Contracting a call first, and see what a difference it will make.
Our Broad Catalog of Swarthmore PA Home Remodeling Contractor Services Includes:
Interior work
Kitchen Design – Kitchen Remodeling
Bath Design – Bath Remodeling
Room Additions – Home Additions
Basement Finishing
Handyman Services
Window and Door Replacement
Plumbing
Electrical and Lighting Design
HVAC
Exterior work
Decks
Outside Cooking Areas
Pavers
Patios
Pool houses
Gazebos
Screened in porches
Roof and siding applications
Access bridges
Want To Know More About Our Work As A Swarthmore PA Home Remodeling Contractor?
Give Tri-County A Call Today At