Measuring The Energy Efficiency Of Buildings And Materials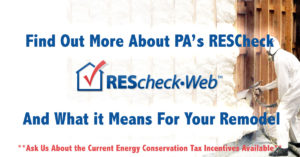 Tri-County General Contracting makes choosing the smartest energy-efficient building materials simple. Tom Thornton and his team can help homeowners wrap their heads around complex energy efficiency terms like R-value and U-value, and energy performance data systems like REScheck. Taking into consideration building Window R-Values & PA REScheck data, we can give an accurate energy efficiency profile for your project, and discuss options to increase energy savings. We'll use broken-down, straightforward language in layman's terms. And we'll explain how Window R-Values & PA REScheck technologies work, walking you through every step of the way toward a greener home.
What Is An R-Value?
The R-Value of a building material measures its energy efficiency – a value originally developed for guaging the thermal performance of insulation. Materials with higher R-Values provide better insulation, i.e. increased resistance to heat transfer. A materials with an R-Value of R5 is much more energy efficient than a material with R1. High R-Value materials, from window panes to frames to doors to insulation, are a crucial component of building environmentally friendly buildings, and play a big role in the United States Green Building Council's Leadership In Energy And Environmental Design (LEED) standards.
R-Values And Window Assemblies

Architects and builders use the R-Value less commonly to measure window assemblies, as it only refers to a specific materials component of a window – the glass pane. The U-Value measures energy efficiency in more general terms, used to determine the insulating value of frames, hardware, spacers, glazing and glass together.
What Is PA Res-Check?
The U.S. Department of Energy (DOE) created the REScheck™ information system to determine whether new homes, additions, and alterations meet the requirements of the International Energy Conservation Code (IECC) as well as a number of state energy codes. Reviews of building plans for energy code compliance can be conducted quickly and efficiently with REScheck™, which does trade-off calculations for ceilings, above-grade walls, basement walls, windows, doors, floors, heating and cooling equipment, air leakage, skylights, vapor retarders, materials identification, duct insulation, duct construction, temperature controls, service water heating, circulating hot water systems, swimming pools and heating and cooling piping insulation.
REScheck™ data can be computed for residential detached one and two-family buildings and multi-family buildings less than four stories high, such as apartments, condominiums and townhouses. REScheck works by performing a simple U-factor multiplied by Area calculation for each building assembly to determine the overall insulation profile of a building. It compares the value from your building's calculation to that of a similar building which meets IECC code. If the total heat loss through the envelope of your building does not exceed the total heat loss from the same building conforming to the code, the program will deem your building code compliant.
Have More Questions About Window R-Values & PA REScheck?