Don't Let Summer Days Be Fun Outside But Miserable Inside, Consider Summer Remodeling Ideas 2017
We are all gearing up for a summer of sporting events, barbecues and sunshine. But as many of us are going to be out in the hot weather as much as possible, spending time indoors should not be something to dread. When the heat of long summer days gets into your home, it tends to stay there, making the inhabitants feel like they are living in a sauna and overloading your A/C bill. At that point, it's a good idea to think about summer remodeling ideas 2017.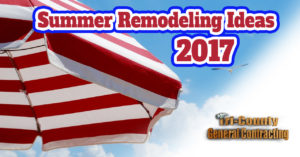 Here at Tri-County General Contracting, we understand the importance of summer-proofing a home, whether that be as simple as a different colored paint, or as complex as adding on a covered open-air patio to help cool the rest of the house. Tom Thornton and his team have 35 years of general contracting experience getting Delaware, Chester and Montgomery County homes ready for summer, and they're ready to earn your business and help keep you and your family cool this summer. Have questions about which summer remodel is right for your home? Call Tom Thornton and Tri-County today at
Here's Our List Of Summer Remodeling Ideas 2017:
Summer-Proof Exterior Walls
When the sun shines on exterior walls during the day, heat will eventually make its way inside even with the most efficient insulation. This warmth can be felt after sundown when outside temperatures cool off yet stuffy, hot indoor air sticks around. Often it doesn't take a remodel as serious as replacing insulation or entire walls. Consider painting areas that get regularly baked in sunlight with heat reflective colors, or use exterior blinds and shades to keep the sun off.
Remodel To Increase Air Circulation
Airflow is essential to maintaining a comfortable daytime temperature in any home. The more air able to pass through a home, the more comfortable the inhabitants will be. So think about ways to up your home's ventilation. Would it be best to open up some walls? Maybe a few more windows on the shady wall of the house will do the trick? Often times a retractable skylight or clerestory windows installed near the highest ceiling will help a home shed rising warm air and prevent it from building up and engulfing a room.
Add On An Outdoor Kitchen Or Living Area
Summer remodeling does not just refer to inside a home. Why not take advantage of the great weather and build a comfortable place to eat, socialize and relax that is naturally cooled by the breeze? Outdoor areas are a great way to increase living space, while also increasing the value of a home. They can make your entire property look more inviting, comfortable and luxurious.
Build An Outdoor Bathroom
Outdoor bathrooms can be sanctuaries from the heat and commotion of summer. Surrounded by nature and lush greenery, an outdoor tub or shower can be perfect for those long hot summer days.
Put On A New Roof, Or Add Solar Reflective Coating
Intense summer sunshine hits the roof of your home more than anywhere else. It absorbs a great deal of heat and can leave those underneath cooking on a long, windless day. Replacing it with a new heat-reflective roof may be in order. If that is beyond your budget, though, you can improve your existing roof by adding a solar-reflective coating to the metal.
Repaint Interior Wall With Cool Colors
Even if a cool-colored room doesn't affect the ambient temperature much, it can still make its inhabitants feel cooler, psychologists say. Blues, greens, purples and neutral tones can ease your state of mind when the yellow sun is shining bright outside.