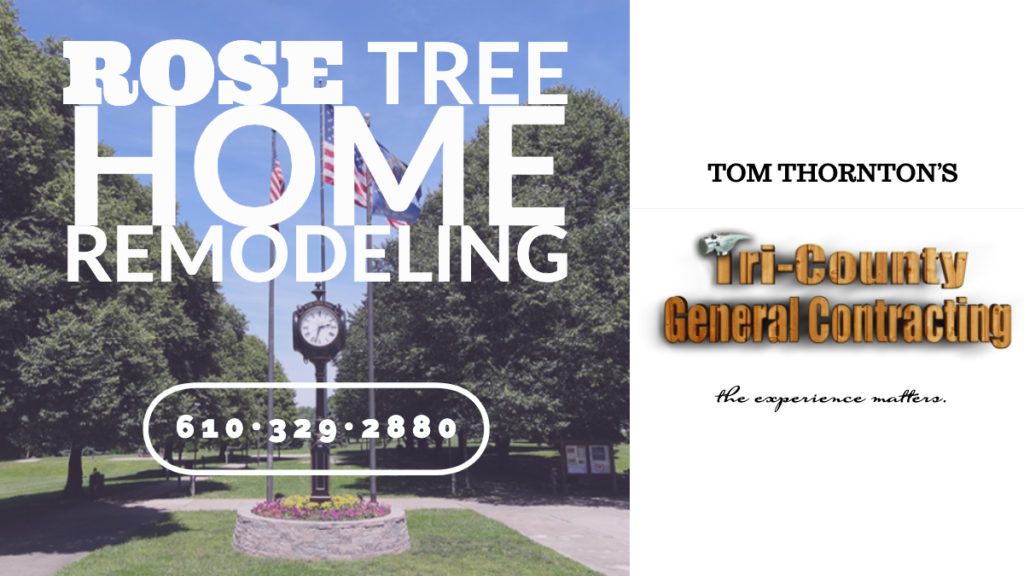 Small-Town Work Ethic.
Tri-County Offers Rose Tree PA Clients A Different Type Of Home Contracting Experience
Here at Tri-County General Contracting LLC, we know what it takes to build a handsome, quality crafted home in our unique Southeast PA environment. But it's not just unbeatable craftsmanship that has made Tom Thornton and Tri-County a no-brainer for prospective homeowners in need of a trusted Rose Tree PA Contractor. Our company combines the same quality of work you'd expect from an industry veteran, along with the care and individual attention only possible with a small-time home contracting operation. We give our clients the best of both worlds, offering real one-on-one face time ensuring the answering of all customer questions and addressing of all concerns. We work with our clients throughout every step of the construction process, making for a pleasant, enjoyable experience and a finished product that is truly unique, affordable and exactly as desired.
As a company, we also know it's one thing to hear self praise from a builders website, and it's a very different thing to hear praise from a satisfied former customer. That's why we offer a collection of Testimonials on our website from happy past clients of ours who've gotten the homes of their dreams built or updated by Tri-County. It's our way of letting our past successes speak for themselves – and of showing our new prospective clients the type of professionalism they can expect from our contracting team.
For a complete list of other general contracting services offered by Tri-County in Rose Tree PA, including new home construction and exterior renovation services including gazebos, pool houses, access bridges and outdoor kitchens, check out our Services page on our website.
Want A Tiny Home? No Problem? How About A Magnificent, Sprawling Personal Palace? Big Or Small, Tri-County Can Build It
Maybe you have always dreamed of building your perfect quaint little family home near The Walden School in a quiet neighborhood off of main street? Or maybe it's an elaborate multi-winged house you're envisioning, down the block from Rose Tree Park off of Palmers Mill Road. Perhaps you have just bought a prepared piece of land across town from Reformation Lutheran Church and are ready to start building a medium-size townhouse? No matter where in Rose Tree PA you see your future home standing, or what type of home construction project you have in mind, Tom Thornton and Tri-County are your go-to small-town PA home contractors with the skills, manpower and tools to get the job done right.
Need some help with ideas? Give Tom Thornton, your trusted neighborhood Rose Tree PA home contractor, and his team a call today and get pro answers to your questions. Also, our Portfolio page on our website of successfully completed past projects is a great resource for prospective homeowners to get those creative juices flowing. So don't wait, give our team a call and see what a difference hiring your local neighborhood home contractor can really make!
Want To Know More About Tri-County General Contracting's Services Offered As A Rose Tree PA Home Contractor?
Give Tom A Call Now At: