Protecting & Repairing Your Home from Hurricanes: A Few Tips For Affordable Home Hurricane Protection
We do all types of Storm Damage Repair.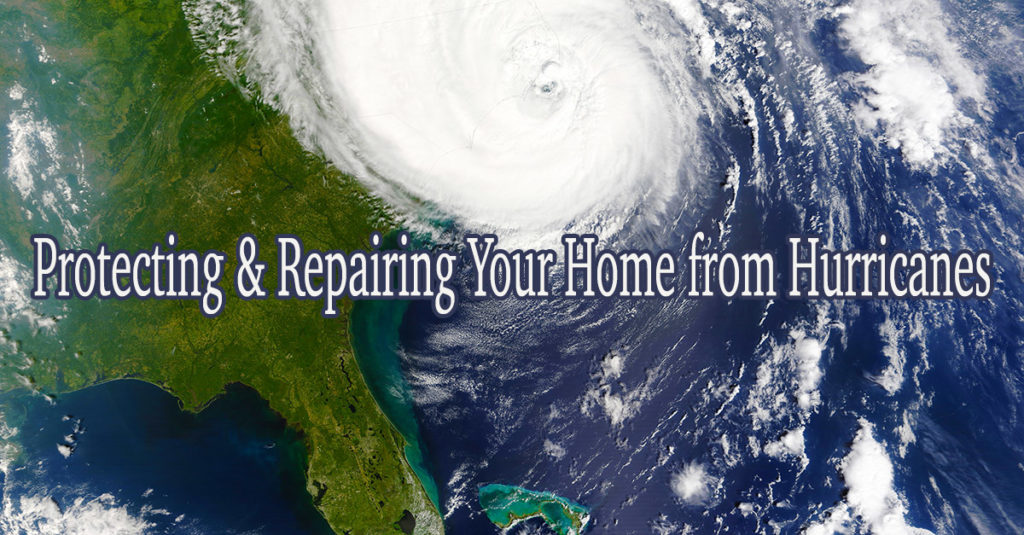 If you've lived on the Gulf Coast, you probably already think about protecting & repairing your home from hurricanes when hurricane season starts to come around the corner. But for those of us living in Southeastern PA, we've found we are still at-risk of hurricane damage, Tri-County General Contracting offers these simple solutions to help homes become more hurricane proof:
Install Surge Protectors: Strong power surges can occur instantly and without warning during a heavy storm, and the surge can damage electronics and appliances. Adding a power surge protector to your existing electrical panel – in addition to always using power strips with surge protectors built in – helps to protect crucial electronics during a storm. Surge-proofing heating and air conditioning units if possible goes a long way in protecting & repairing your home from hurricanes.
Stock Up the Pantry: Too many of us rely on restaurants & local grocery stores for on demand food and water. Don't wait to stock up, always have a few weeks of non-perishable food on hand in case of emergency. It not only makes your family safer in prolonged emergency situations, but also stops you from risking your safety going out during a storms dangerous period.
Cover Air Conditioner: It's wise to protect outdoor air conditioning units against airborne debris and flying projectiles. These objects can become stuck in the air intake and cause damage. Window units can cause the window to break allowing wind and water infiltration. We recommend a manufacturer-approved protective covers.
Stock Up On Plywood: Possibly the simplest and most affordable hurricane-proofing material, plywood can be cut on the spot to protect windows without shutters from airborne projectiles. Having ready made cutouts is a wise investment for any home; just cut to full size of window plus exterior trim and label. This makes for quick and painless barriers if a storm takes a turn for our state.
Seal Windows & Doors: Leaky windows and doors will let in water during a violent storm, so make sure windows and doors shut tightly and that all weatherstripping is in good condition.
Remove Possible Projectiles From The Area: Anything can become a missile during a full-blown hurricane, but removing and securing the items around your home in anticipation can help keep broken windows to a minimum. Properly stow lawn furniture, toys, gardening equipment, and cut down and remove low-hanging branches and limbs.
Make Sure Gutters And Drains Are Clean: Homeowners should be practicing regular cleaning and maintenance of gutters and downspouts, whether in hurricane country or not. But during a heavy storm it's even more crucial to have clear gutters, since this can prevent flooding in attics and basements.
If The Worst Happens, Tri-County Is Here To Help You And Your Family Move Forward
For clients in need of hurricane damage repair, one call to Tom Thornton and Tri-County General Contracting will get the ball rolling on getting your home back. Tri-County is dedicated to protecting & repairing your home from hurricanes. We'll provide any necessary emergency repair services, and then discuss the scope of damage, repairs needed, and possible hidden structural damage. We'll come up with an operating plan explaining the Real Costs and Real Repair Time to the Insurance Adjuster, so that there is no underestimation of hours and cost of labor and materials.
Tri-County will begin repairs right away, and most of the time can finish within 2-3 weeks. We will negotiate with the insurance companies, acting as your agent, to get a fair disbursement, and submit repair timetables and add-ons to insurance companies directly.
Typical Residential Repair Services Needed After Hurricanes:
Water Damage Assessment
Structural Drying
Water Extraction
Tree Removal
Demolition of Damaged Structures
Flooring and Carpeting
Structural Damage Repair
Have Questions About Hurricane Proofing And Repairs?
Give Tom and Tri-County A Call Today At