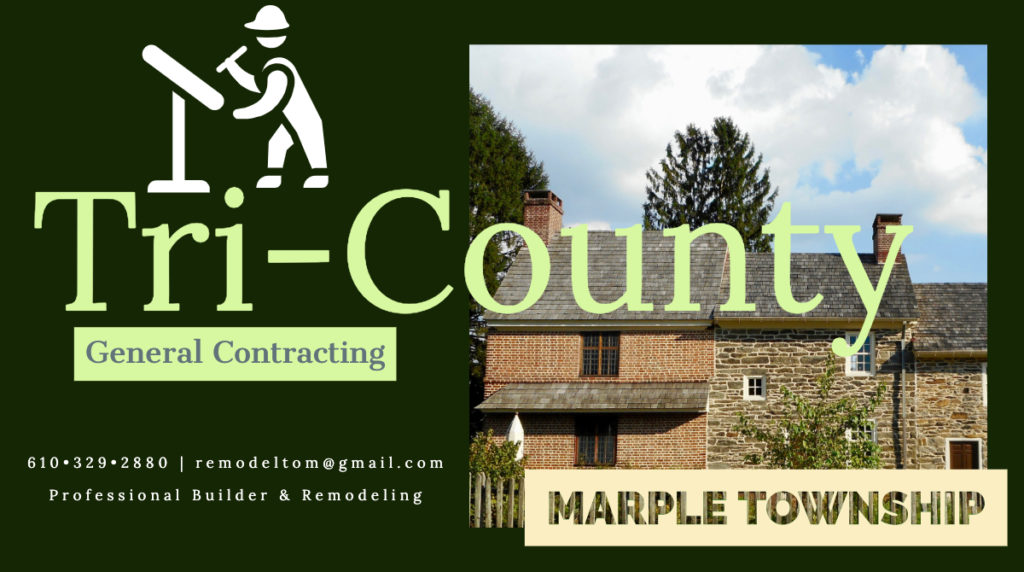 Marple Township PA Residents Have A Friend In The Home Remodeling Business With Tri-County
Experience matters; when updating your beloved Marple Township home make sure your contractor knows how to create what you want.  Luckily right around the corner local neighborhood & family-owned Tri-County General Contracting LLC is a trusted local Marple Township PA Home Remodeler. The owner Tom Thornton has been the goto for quality remodels with the care and consideration you'd expect from a family-owned business. He personally has more than 40 years experience in the small-town PA home construction and renovation industry, Tri-County has the manpower, skills, tools and friendly attitude that will make your next home remodel project a truly enjoyable, one-of-a-kind experience. So before putting all your faith in a big remodel corporation with flashy sales gimmicks, give Tom a call and experience the difference it makes when you hire a contractor who lives right down the road – in Glen Mills. From basement finishes to kitchen revamps, bedroom additions and bathroom updates – even plumbing, electrical and painting services – Tri-County is your one-stop-shop for top-quality home renovations in Southeast PA.
Tom Thornton and Tri-County: A Legacy Of Beautifully Redone Homes, Small-Town Business Ideals
Don't take our word for the quality of our work – check out our online collection of Testimonials from southeast PA homeowners just like you who got the home remodel of their dreams with Tri-County. It's just a small sample of the countless customers in Delaware, Chester and Montgomery Counties and beyond who made the smart choice sticking with their trustworthy neighborhood builders. For a complete list of Marple Township PA home remodeler and new home construction services offered by Tri-County – including exterior work – consult our Services page on our website.
No Matter What Type Of Renovation Your Marple PA Home Needs, Big Or Small, Tri-County Is Up To The Task
Perhaps you own a townhouse a few blocks away from Marple Sports Arena that direly needs more kitchen space? Maybe you have a ranch home down the way from Paxton Hollow County Club that has an old, outdated master bedroom not living up to its full potential? Or maybe its your family home across town from Delaware County Community College that needs a completely revamped interior? No matter what your dream home remodel project calls for – and no matter how big or small it is – Tom Thornton and his team of general contractors at Tri-County are ready to work with you every step of the way to get the home you and your family have always wanted.
So why wait? Hundreds of small-town PA homeowners have gotten the home remodel of their dreams thanks to Tom Thornton and Tri-County. If you're currently starting out on your own renovation journey, give our helpful, friendly contracting team a call today and see what a difference choosing Tri-County can make.
Want To Know More About Tri-County General Contracting's Home Renovation Services In Marple Township PA?
Give Tom A Call Today At: