Fall Is Upon Us; Is Your House Ready?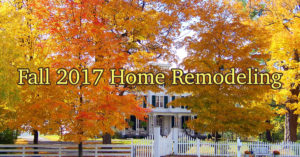 As the leaves change color, autumn is the ideal season for home improvements. The warm days of summer are fading and pretty soon everyone is going to be spending much more time indoors. As the nights get colder, proper door frame, window frame, wall, floor and attic insulation becomes significantly more important. This is the time when Fall 2017 home remodeling ideas are most helpful.
Tri-County General Contracting has many years of experience working in the pre-winter home remodeling rush. Over time, we've gotten an idea for what remodeling projects homeowners embark upon most in the fall. So here is a list we've composed with some smart suggestions for getting your house ready for the colder indoor months.
Improving the Kitchen: Keeping in mind all the cooking that goes on during the holiday season, fall is the ideal time to make sought-after improvements in your kitchen. Want more surface area for cooking? Maybe you need a second oven so the family can cook turkey and pumpkin pie simultaneously? Installing new, energy-efficient appliances is always a smart move, as winter tends to make energy bills more outrageous.
Replace Old Windows: Old, dilapidated or otherwise not-functioning windows provide easy access for cold air to enter a home. Replacing antiquated windows with newer, heat-insulting windows will reduce heating bills and keep every room cozy throughout the winter.
Roof Repair or New Roofing: Every family knows the dangers of having to get up on the roof in the snow and ice. Address any needed repairs, and check gutters and chimneys for leaks. Most shingles last between 20 and 30 years making a large percentage of homes exposed to damage when shingles are past their prime. Make sure you replace shingles before damage occurs to more costly sheathing and structural components.
Add Attic Insulation: The most energy and cost-efficient of our fall 2017 home remodeling ideas, adding insulation to a home's attic has been proven to reduce energy bills, as well as drafts and wet, cold air that can make a home miserably chilly when snow if on the ground. Most new buildings are built with the minimum amount of insulation needed to pass building inspections; almost all homes can easily do much better.
Paint The Exterior: A fresh coat of paint will give a home a brand new look, and better protect against the elements, too. Fall weather is ideal for outdoor painting because temperatures over 80 degrees Fahrenheit and intense sun exposure can make painting difficult, and winter adds the element of freezing which makes painting just as unbearable.
Best Return On Investment Fall 2017 Home Remodeling Ideas
A recent article published by Forbes.com listed some of the greatest returns on investment (ROI) for fall home remodeling projects. In order of greatest ROI, these include:
Paint the Front Door: 80% to 140% ROI
Refresh (or Repair) the Deck: 80% to 120% ROI
Enhance the Exterior: 60% to 100% ROI

Replace or Repair Roof: 50% to 110% ROI
Power-Wash the Exterior: 40% to 110% ROI
Window Replacement: 50% to 80% ROI
Update HVAC System: 20% to 50% ROI
Have Questions About These Or Other
Fall 2017 Home Remodeling Ideas?
Give Tri-County A Call Today At