Whether In Kitchens or Bathrooms, Offices or Pantries, Bedrooms or Garages, Let Tri-County Build The Storage Space You Need
Built in cabinets make storage possible in essentially any room of the house. They can transform that wasted, empty space beneath the stairs, under a windowsill or along a bare wall into beautifully crafted, functional organizing space. We can work with any choice in cabinet manufacturing from custom shop to off the shelf.
For decades now, Tri-County General Contracting has been building storage solutions for homeowners. Tom Thornton and his construction team expertly tailor every finished built in cabinet to each specific room and their intended purpose. From small cabinets above a desk in an office, to wall-mounted cabinets above the washer and dryer in the laundry room, to a full-wall custom armoire or floor-to-ceiling cabinet rack to house a big screen TV, Tri-County can build it.
Tri-County Is Here To Help With Cabinet Design
Tom and his team know what goes into building the perfect built in cabinet. Storage space must fit the needs of the room; large deep cabinets for children's toys vs. a small, wall-inserted mirrored cabinet for storing and displaying jewelry. Built in cabinets for appliance and electronics storage can be easy, especially if homeowners already know what appliances will be used. Tri-County is willing to work with homeowners to custom craft built in cabinets based on measurements of how much storage space is needed. Thinking about a living room remodel with new built in cabinets, and already have a favorite flat screen television? Let Tom and Tri-County create the perfect built in entertainment center for your family to enjoy.
Custom Built In Kitchen Cabinets
These are arguable the most important cabinets in the house. They store food and cooking utensils, and the difference between well-organized and easily accessible cabinets and cluttered, hard-to-reach ones can spell the difference between a wonderful culinary experience and a headache. Or maybe you want to display fine China and your grandmother's teacup collection to kitchen party guests. Either way – whether for functionality or visual aesthetic and display purposes – Tri-County can custom make built in kitchen cabinets assemblies to bring organization and ease-of-use to your kitchen space.
Custom Built In Bathroom Cabinets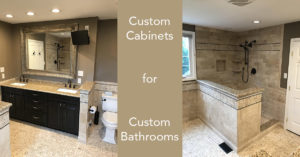 Just as important as kitchen cabinets, built in bathroom cabinets can also be the high point in a home remodel. Since available free space is often measured in inches instead of feet in a typical family home bathroom, bathroom cabinets tend to have have a thin profile and not to bulky. Now every family member can have their own drawer and shelf to store hygiene products and keep them separate. Or maybe a few cabinets over the Jacuzzi is in order? Tom and his team can deliver the styles, craftsmanship and functionality that will make the bathroom the most enjoyable room in the house.
Pantry/Office Cabinets
Let Tri-County build a space in your pantry for all of your cereal boxes and soup cans, seldom-used appliances and bulk foods, Tupperware containers and coolers. And for offices, built in cabinets can store printers and fax machines, office supplies, large volumes of paperwork and other office electronics.
Have More Questions About Tri-County's Built In Cabinets? Have A Specific Project In Mind? Give Us A Call Today At: