Planning On Building In Delaware County? Tri-County General Contracting Can Help Make Building Codes Delaware County PA A Breeze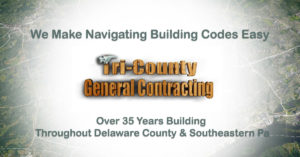 Tom Thornton knows Building Codes Delaware County PA like the back of his hand. With over 35 years of general contractor experience serving Delaware, Chester and Montgomery Counties, his company can be your most valuable resource in navigating the state's building codes. Here is an easy to understand run-down on building codes from a trusted local Southeast PA builder:
According to the PA Department of Labor and Industry, the State of Pennsylvania utilizes the International Building Code 2009. The state has a Uniform Construction Code, and individual PA townships may choose to enhance this code to be more stringent on requirements at will. Many townships do so, such as Springfield Township in Delaware County, which has its own specific codes for projects like swimming pools, patios, fences, decks and tools sheds.
Statewide municipal planning departments use the 2009 IBC as base code, with the following 2015 revisions:
Section 304.1 concerning "Business Group B" uses and occupancies.
Section 306.2 concerning "moderate-hazard factory industrial, Group F-1" uses and occupancies.
Section 2902.3 concerning exceptions for "employee and public toilet facilities."
Section 902.1 (relating to definitions) to the extent that "Automatic Water Mist System" was added.
Section 904.2 (relating to installation of automatic fire-extinguishing systems).
Section 904.2.1 (relating to restrictions on using automatic sprinkler system exceptions or reductions).
Section 904.11 (relating to automatic water mist systems).
Section 904.11.1 (relating to design and installation requirements).
Section 904.11.1.1 (relating to general requirements for design and installation).
Section 904.11.1.2 (relating to actuation).
Section 904.11.1.3 (relating to water supply protection).
Section 904.11.1.4 (relating to secondary water supply).
Section 904.11.2 (relating to water mist system supervision and alarms).
Section 904.11.2.1 (relating to monitoring).
Section 904.11.2.2 (relating to alarms).
Section 904.11.2.3 (relating to floor control valves).
Section 904.11.3 (relating to testing and maintenance).
Section 907.2.11.3 (relating to installation of smoke alarms near cooking appliances).
Section 907.2.11.4 (relating to installation of smoke alarms near bathrooms).
The full text of the State of Pennsylvania's building code (UCC) can be found here. According to the UCC, the code's scope is meant to apply to "the construction, alteration, repair, movement, equipment, removal demolition, location, maintenance, occupancy or change of occupancy of every building or structure which occurs on or after April 9, 2004."
The UCC Does Not Apply In All Situations, However. Exemptions Are Applicable For The Following Types Of New Construction Work:
Structures with a building area less than 1000-square-feet and is accessory to a detached one-family dwelling
Carports
Detached private garages
Greenhouses
Sheds
Agricultural buildings
Manufactured or industrialized housing shipped from the factory
Installation Of Tubing, Piping, Propane Gas Burning Appliances, Equipment or Fixtures related to liquified petroleum gas.
Construction of individual sewage disposal systems
Alterations to residential buildings which do not make structural changes or changes to means of egress.
Repairs to residential buildings
Installation of aluminum or vinyl siding onto existing residential buildings
As They Say: "Measure Twice, Cut Once" With PA Building Codes
Tri-County has been in the general contracting business long enough to know that building codes can be hard to navigate for a home-owner. If doing a Do-It-Yourself project, our company recommends meeting with code inspectors throughout the building process to make sure you are building exactly to code. There will be several code inspections throughout your project, so know the schedule to reduce the risks of any unwanted surprises. Building permits should be applied for well in advance – for homeowners new to the process, Tri-County offers valuable advice on How To Apply For A Delaware County Building Permit. For those ready to submit a building plan to the Delaware County Planning Department, Tri-County can give your plan a review and offer suggestions.
Electrical, plumbing, and HVAC systems must go through multiple inspections, and Building Codes Delaware County PA have specific requirements for strapping, stapling, size, and positioning of access and bore holes. We've heard many horror stories about projects where codeas weren't closely followed and builders had to tear out entire parts of new construction and start over.
We offer this advice to Delaware County residents thinking about building or renovating:
When in doubt ask the codes inspector to come out and check out your project. Most inspectors will be nice and willing to help you through the project. Many inspectors just love showing off their newest knowledge of the trade.  Inspectors learn by joining an ongoing education program.
Hire for your Project and Tri-County General Contracting will professionally manage all building permits and residential codes for you. Enjoy your newly updated home without having to worry about a single permit or code issue from start to finish.
Have Specific Questions About Building Codes Delaware County PA? Give Tri-County A Call Today At