2019 Philadelphia Home Show – A Treasure Trove Of Home Remodeling Ideas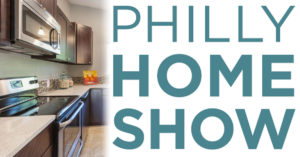 Here at Tri-County General Contracting, we are always looking for hot new remodeling ideas to share with our clients. Between January 11th-13th and 18th-20th, Southeast PA residents will have a great opportunity to see next year's biggest home remodeling trends front and center at the 2019 Philadelphia Home Show to be held at the Philadelphia Convention Center. Get revamp advice from real celebrity home remodelers – this year's speakers and guests of honor will be Clint Harp, a regular face on HGTV's hit show Fixer Upper, and Matt Blashaw of HGTV's Yard Crashers and Vacation House for Free.
Habitat For Humanity ReStore – Pop-Up Shop
The Philadelphia ReStore will have its pop-up shop up and running at the Home Show; a great place for interior designers, contractors, do-it-yourself-ers, homeowners and everyone else to hunt for deals. Or attend a 2019 Philadelphia Home Show Make It Take It Workshop, where you can work with local designers, artists and craftspeople showcasing the latest home decor trends for 2019. Workshop participants can expect to get dirty, ask a lot of questions and test new products alongside industry experts.
Concrete Backyards – Grass-Less Outdoor Living Spaces
Together with Elite Landscaping, attendants to this session of the 2019 Philadelphia Home Show will learn how to build a stylish and functional outdoor space without grass. They'll work with the latest in concrete and stone work, window boxes, vertical gardens and outdoor furniture to create their very own urban oasis.
2019 Philadelphia Home Show Products & Services, Delivered By Tri-County General Contracting
See something at the Home Show that you think would look great in your home? Our team of contractors led by Tom Thornton will work with you to realize your home remodeling vision. Home shows like these are great places to find inspiration and ideas for how to decorate and use a space differently, and the next step is to fine a hard-working, reliable and professional contractor who can make your bedroom, bathroom, kitchen or living room look like the one on display. With over 35 years of experience achieving catalog-quality results, Tri-County General Contracting is here to work with your home remodeling vision, no matter where you got the idea from.
Exhibitors At The 2019 Philadelphia Home Show Represent Every Home Improvement Category, Including:
Want To Know More About The Home Remodeling Products And Services On Exhibit At The 2019 Philadelphia Home Show Also Offered By Tri-County General Contracting?
Give Tom Thornton and Tri-County A Call Today At: