Winter Is Here! All season's are great for remodeling.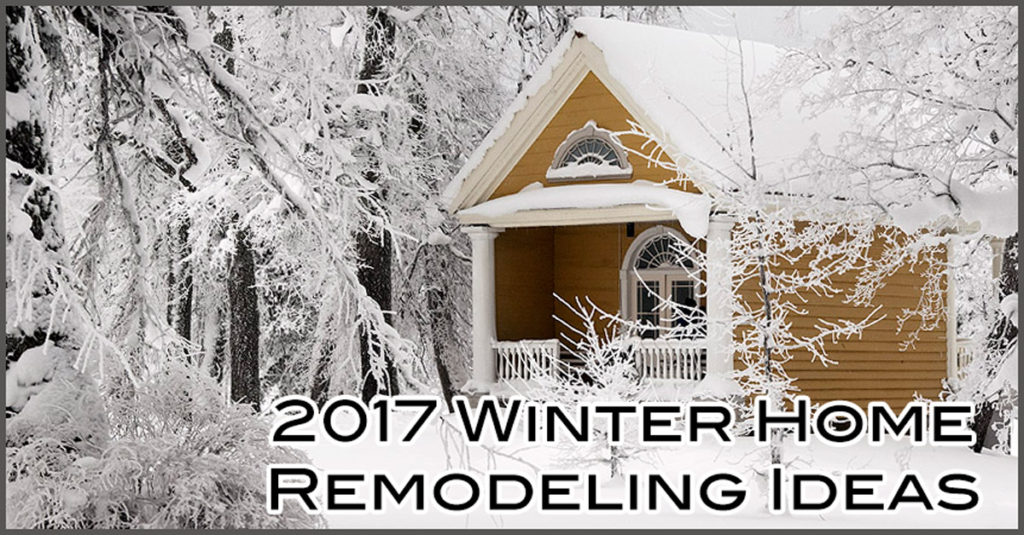 The winter days and nights are colder and homeowners get stuck inside thinking, why don't I live in the tropics? Worry not, just because it's cold outside doesn't mean you have to sit around just waiting for the thaw. Here is a list of several 2017 Winter Home Remodeling Ideas that are sure to keep you and your loved ones cozy (and your heating bills at bay) for the colder months to come:
1. Nothing Says Cozy Like A New/Updated Fireplace
Adding a new fireplace to your living room, or remodeling an existing one, is probably the coziest thing you can do for your home this winter. This project will add a perfect holiday ambiance to your living space, and will give everyone an inviting spot for snuggling up when the fire is dying and the bricks are radiating warmth. And these days, thanks to direct venting, a complex and intimidating chimney system is not required to enjoy a fireplace in your home. Though full-scale stone hearth and mantel set-ups can cost as much as $30,000, gas-burning fireplaces with drywall surrounds are built for just a few thousand dollars.
2. Heat You Feet
For those who want warm toes more often than just in their armchair next to the new fireplace, remodeling their home with radiant floor heating systems might be what they're after. These systems allow users to set the temperature of their hard surface flooring, ensuring their feet stay warm all season long. The floors are adjustable, able to become warmer in the morning and evenings when the outdoor temperatures fall, and to keep the floors at ambient temperature during the day. Remodelers can install them in essentially any room of the house, most popularly in kitchens and bathrooms. Heated floors take the idea of cozy to a luxurious level.
3. Caulking, Weather Stripping and Insulation
According to the U.S. Department of Energy, a home loses 5 to 30 percent of its energy to chilly drafts – breaches in the building's thermal envelope. Remodelers stop this process by filling corners and gaps with fresh caulking, and by applying weather stripping on outside-facing doors and windows. Insulation inside walls can be a key factor, too, in a house's energy efficiency. This simple renovation will not only keep your house warm, but it will also save you money on your winter heating bills in the long run.
4. New, Energy Efficient Doors and Windows
Leaky windows and drafty doors can make exterior-facing rooms colder, draftier and more uncomfortable during the winter. If you feel chilly drafts coming through your living room, dining room or bathroom, it might be a good time to replace those old inefficient windows and doors. Installing new energy-rated windows and doors can increase a home's energy efficiency profile by 45 percent, also eventually paying for themselves in utility bill savings. Although wooden doors are beautiful, modern steel and fiberglass doors are much more energy efficient. Many people prefer fiberglass to steel because it resists wear and tear better. Fiberglass doors can also be painted and stained for a faux-wood appearance.
Have One Of These Ideas Caught Your Interest? Give Tom and Tri-County General Contracting a Call Today!