Hire A Local Contractor Who Knows The Codes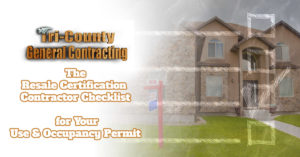 Tom Thornton and his team at Tri-County General Contracting knows what it takes to get a house ready for resale. In Delaware County, residential building codes have many different specific requirements, so it's always wise to do a Resale Certification Contractor Checklist – Use & Occupancy Permit check. After working for more than 35 years in Southeast PA, Tri-County has helped countless homeowners better understand the building requirements necessary for a residential structure to be considered "legal".
Resale Certification Contractor Checklist – Use & Occupancy Permit
At resale, a homeowner must show that the use and occupancy of their property continues to be legal. A Use and Occupancy Permit validates the living conditions of a house or building, and provides proof that a building or structure has been inspected and passed safety health code requirements. State government approved use of structures by permitting them, signifying that all prerequisites to use it lawfully and make it open to the public have been met.
These permits protect buyers, sellers, renters and tenants in the dealings of real estate. They expressly shield prospective tenants from renting or buying a place that has hidden health or safety hazards. The permit also protects the workers within a building by ensuring all areas of a structure are secure and safe.
According To The Township Of Concord Office Of Property Safety, Permitted Structures Must:
Have building exterior surfaces  maintained in good condition.
Premises identification 4 inches minimum plainly legible and visible from the street with contrasting colors.
Stairways, deck, porch, balconies must be structurally sound in good repair & proper anchorage.
Chimney must be structurally safe and sound and in good repair.
Handrail & Guards firmly fastened and capable of supporting imposed loads and in good condition.
Doors deadbolt lock designed to open from the inside without the need of a key.
Have structurally maintained garages and accessory structures.
Fences must be sound and in good repair.
Swimming Pools have proper fencing, clean and sanitary and are in good repair.
Motor Vehicles: inoperative or unlicensed, major disassembly, disrepair not permitted.
Rubbish or Garbage: must be in approved containers.
Have pests promptly exterminated by an approved process.
Maintain clean, safe and sanitary living conditions.
Smoke Detectors: in every bedroom, on every floor plus one in basement.
Operable Window: easily opens and held into position by window hardware.
Windows: all within 6 feet of grade must have a locking device.
Well-maintained Decks, Balconies, Porches.
Ceiling Heights living, sleeping, eating, cooking, bathrooms and hallways must be 7 feet.
Room Widths living room and bedroom must be 7 feet in any plan dimension.
Doors must open and close by being properly attached to jams.
Light every public hall, kitchen, bathroom, laundry room must have at least one
Bathroom Ventilation: must have an operable window or mechanical ventilation.
GFI-protected bathroom must have at least one receptacle.
GFI-protected laundry receptacles within 6 feet of sink.
Dryer Exhaust venting to outside or have a labeled "condensing" clothes dryer.
GFI-protected kitchen receptacles that serve counter tops.
Mechanical Appliances: properly installed, maintained in a safe working condition.
Have More Questions About Building Use & Occupancy Laws? Give Tri-County A Call Today At 610-329-2880