Home Remodeling – How To Pay For It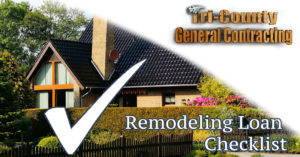 Here at Tri-County General Contracting, we want you to get the remodel you want at a price you can manage. Often times, it's a smart idea to take out a home remodeling loan in order to make an investment in the equity of your home. Borrowers should consider the terms, conditions, interests rates and other financial considerations of home remodeling loans closely, and then discuss them with a trusted financial adviser if needed. They should develop a home remodeling loan checklist to keep their loan application on track.
Every home remodeling loan-seeker needs an amount to shoot for. Talk to your family members about which remodels are most essential, and which will bring the best return on investment. Using borrowed capital to replace a leaky roof will pay for itself in the long run. And lounging in your new master bathroom Jacuzzi will soothe you when it comes time to make those monthly payments. As is true in every remodel, homeowners must balance needs, wants and affordability. Once you have a vision for the remodel, find a trustworthy, honest and reliable home remodeling contractor like Tom Thornton and Tri-County General Contracting. Together, come up with a realistic timeline, blueprint and budget.
Find A Loan With Terms That Fit Your Needs
From this budget, and taking into account credit and lending history, shop around for what types of home remodeling loans are out there. Try to find fixed-rate terms, or loans with grace period that don't have to be paid back immediately. Banks and loan agencies ask for quite a bit of paperwork, so those applying for home remodeling loans should expect to assemble things like:
Copy of deed to the property
Copy of Appraisal
Home Remodeling Loan Checklist
Employer's Address and Phone Number
Copies of pay stubs for salaried individuals for the last 30 days and W-2's for the previous two years.
Complete tax returns from previous two years.
Self Employed or Commission Based copies of the last two years corporate returns and a year to date profit and loss (P&L) statement.
Copies of the most recent two months statements or most recent quarterly statement for checking, savings, stocks, mutual fund accounts, retirement accounts and 401K accounts.
Copies of lease agreements for any rental properties. (if applicable)
Current Home Owners Insurance Declaration Page
Recent Property Tax Statement
Current Mortgage Statement (if applicable)
*This List Based On One Published By Sabine Federal Credit Union In Orange, TX
Building Home Equity – Mortgage Payments Vs. Renovations
Making mortgage payments on time is a great way to build home equity, but in the home remodel contracting world we know that renovations and upgrades improve a home's value much quicker. Some can even pay off over 100% of their initial investment when it comes time to sell.
Tri-County General Contracting can help you make important decisions about which remodels are smartest with borrowed money. With over 35 years of general contracting experience in the Delaware, Chester and Montgomery Counties in South East PA, Tom and his team will work with you and your lending institution to pull off a remodel that really pays off.
Have Questions About Your Own Home Remodeling Loan Checklist?  Want To Know Which Tri-County Remodeling Services Are Best Suited To Home Remodeling Loans?
Give Tom Thornton And Tri-County A Call Today At