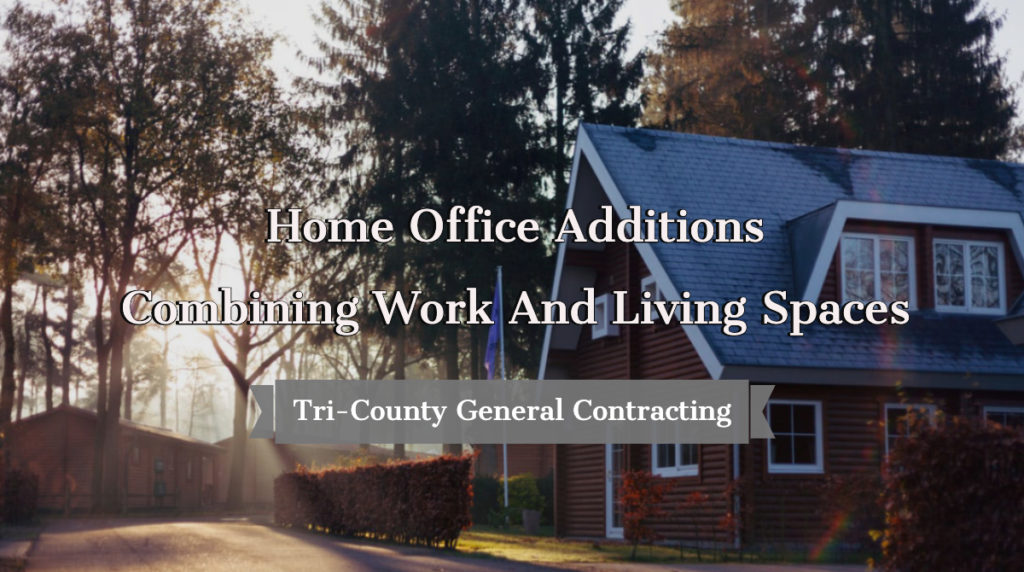 Have a small business that's outgrown the cluttered space on your kitchen table? Need more room for equipment, hardware and other labor-saving devices? Maybe you simply want a quiet, organized place in your home to get some serious work done. Whatever the motivation behind your deciding on a home office addition, Tom Thornton and his team here at Tri-County General Contracting in Southeast PA are here to help. Throughout our 40 years of home renovation and addition experience, we've gained an appreciation for customers' concerns surrounding home offices.
A new home office should meet all the business use needs for a home's occupants. With the ever-changing and ever-intensifying intersection of business and technology, a home office revamp may involve alterations to usable space, electrical systems, lighting, storage, etc. The best home office construction plans carefully consider what types of business activities to cater to. Have hardware with specific power demands? Electrical systems can be upgraded to accommodate high-voltage equipment, computer servers, lights, etc.
Important Thing To Consider Before Embarking On A Home Office Addition
Here at Tri-County General Contracting, we strive to give our customers the most carefully planned, highly functional home additions on the market. So when it comes to home offices and the specific considerations of those projects, we've come up with a list of project aspects for prospective clients to consider when starting a project of building work space into a living space:
Choose The Right Room – Often dedicated rooms in their own right, home office additions can stand alone or can be added on to existing dwelling with an expanded concept. Many folks often dedicate a whole room in their home for rarely had formal dinners, why not convert that seldom-used space into a home office that you'll use every day? Dining room conversions are becoming more and more popular, ensuring those who work from home, easy access to bathroom and kitchen facilities.
Electricity –  Moving a bunch of new office machines into houses with old wiring and aging electrical systems can overburden the system. Consider an electrical overhaul to increase device capacity and ensure safety in your new office space.
Furniture – Consider what types of seating, workstations and work surfaces you need in the new office, including the situating of desks and chairs in the room to optimize free space. There are many custom built in options to choose from.
Lights – Production spaces require specific lighting set-ups, and while working under natural lighting is always ideal for office conditions, when skylights and large windows are impractical, opt for diffused, soft lighting with LED bulbs for maximum energy efficiency.
Pet-Friendly Space: Make your new office accessible for every member of your family! Putting a cat tree, dog mat – even a dedicated pet area of the room – in your home work space prompts welcome relief visits from beloved furry friends on long, stressful days.
Want To Hear Even More Of Tri-County's Home Office Addition Ideas?
Give Tom And His Team A Call Today At: