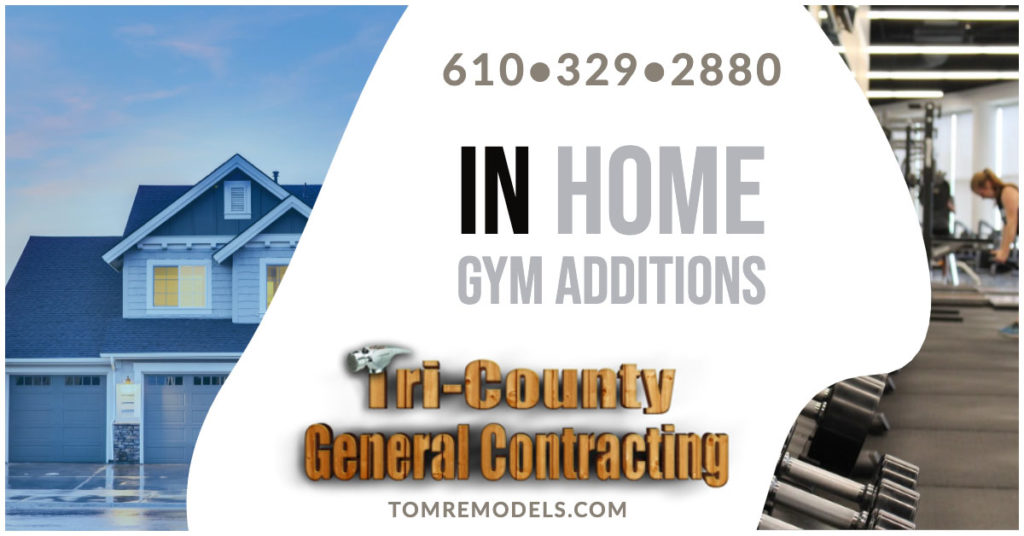 Get The Same Workout At Home With A Custom Gym Addition
Why shell out money every month for a gym membership when you can have all the best parts of your favorite workout space right here in your own home? Skip the crowds, the wait times, the parking – hire a trusted general contractor like Tri-County to build a home gym addition in your home. Our industry-trained team of contractors are ready to listen to your input about what's most important to your in a home gym; from flooring to interior paint colors, lighting, seating and furniture, storage and more.
Tri-County General Contracting, LLC understands homeowners' desire to make the most out of the space they have. Converting a seldom-used room into a home gym for the whole family to use is never a bad idea, especially if it's large enough to accommodate the activities important to all of you. Want to take out a wall to make room for exercise equipment? Tri-County can help with that. What about anchors in the ceiling to hang punching bags? Another easy job for our contractors.
To Help Our Customers Develop A Smart Plan For Their Home Gym Addition, Here's Some Tips:
Flooring: Possibly the most important component of your new home gym will be the floor space. Such heavy-use areas will have specific flooring needs, able to support the weight of heavy equipment, be moisture resistant and be easily cleaned. The best choices are specialist shock-absorbent gym flooring usually made from rubber, non-slip rubber flooring, carpet tiles or luxury vinyl tile.
Lighting: Lighting in a home gym is going to be different than other rooms in a house. While darker, low-light rooms induce relaxation and sleepiness, bright, well-lit rooms encourage activity and energy. Consider a skylight for your workout space, or bay windows to take in the view while you sweat. Be careful with south-facing windows though – they can make rooms unbearably hot in the summer without A/C. If your proposed room doesn't face the outside, consider soft, diffused lighting to reduce fatigue.
Seating/Furniture: For seated exercises, changing clothes and stretching before and after workouts, built-in benches and other seating options are a great idea to make a homy gym more user-friendly. Tom Thornton and his team of general contractors at Tri-County specialize in built-in seating units that make the most of a room's limited space.
Storage: Consider hiring a pro contractor like Tom Thornton and Tri-County to fashion built-in shelving, cubbies or cabinet units in your prospective home gym. These one-of-a-kind storage solutions are perfect for bulky equipment and workout clothes, as they are built into the room itself leaving as much free floor space as possible.
Home Gym Garage/Basement Renovations: One of the most popular home gym revamps occurs in the garage or basement. This is a good option for budget renovators, since floors are likely already concrete, and there's sufficient open floor space to house exercise machines. As garage renovation pros, Tri-County has worked on countless garage and basement finishing jobs, and can incorporate home gym projects into any of these renovations without breaking a sweat.
Have Questions About Tri-County General Contracting's Home Gym Addition Services?
Give Our Contractors A Call Today At: