Glen Mills PA; Mostly Zoned Residential, With Small Plots For Commercial And Industrial Purposes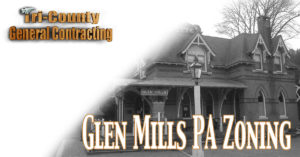 The vast majority of land in Glen Mills PA is zoned Low Density Residential (R2). Plots of land zoned Planned Business are mostly adjacent to Route 1. Commercial (C2). In west Glen Mills near the border with Concordville PA, there are small pieces of land zoned Light Industrial (LI), Municipal Industrial (M/I) and PBP (Planned Business Park). In general, city planners decide on Glen Mills Zoning based on the established needs of the community.
The objectives of a Low Density Residential (R2) zoning is to provide for the housing needs of the community within a low-density residential environment. Some large residential structures would not be appropriate for the size and urbanization rate of the community. In R2, home occupations are permitted without consent, and the following land uses are permitted with consent:
Attached dwellings
Bed and breakfast accommodation
Boarding houses
Boat launching ramps
Child care centers
Community facilities
Dual occupancies
Dwelling houses
Environmental facilities
Exhibition homes
Exhibition villages
Group homes
Health consulting rooms
Hospitals
Hostels
Information and education facilities
Jetties
Multi dwelling housing
Neighborhood shops
Places of public worship
Recreational areas
Recreation facilities (indoor)
Recreation facilities (outdoor)
Residential flat buildings
Roads;
Semi-detached dwellings
Seniors housing
Shop top housing
Signage
Veterinary hospitals
Special Use Residential Properties? Ask A Planning Department Before You Start Making Plans
Here at Tri-County General Contracting, we strive to build our new home construction clients the homes of their dreams. And for those with special and unconventional uses planned for their residential properties, it's best to check with city planners to make sure your property's zoning will permit the use you have in mind. For example, if you want to open a bed and breakfast in an outbuilding on your property, you'd need special consent from the county on R2-zoned plots.
Commercially zoned land is somewhat scarce in Glen Mills, mostly because it's a largely residential community outside of the larger commercial centers of Wilmington, West Chester and Philadelphia. Prospective buyers can still find commercial and industrial-zoned land though in more urban areas near the main highways.
Just as it would be inappropriate to build a Fred Meyer in a rural residential neighborhood, Delaware County imposes restrictions on what types of residential buildings can be constructed in commercial and industrial-zoned areas.
When shopping around for a qualified general contractor in the Delaware County area, make sure they understand zoning laws right off the bat. Hiring Tom Thornton and Tri-County General Contracting will ensure that your project is free of headaches, and that all building code and zoning issues are worked out well in advance.
Have More Questions About Glen Mills Zoning? Get Answers From Tom Thornton And His Team Today! Call Now At