As a Family-Run Business, Tri-County Knows the Importance of Building a Home that's Accessible to Every Family Member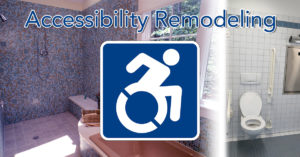 If you're thinking about accessibility remodeling your bathroom and need a reliable, professional contractor who knows how to apply specific ADA codes, give Tri-County General Contracting a call first. If your loved one is ill, physically disabled or elderly, you know how important it is for them to be comfortable in their own space. Proper facilities built with Americans with Disabilities Act Accessibility Guidelines (ADAAG) in mind can help mediate many challenging physical handicaps. Tri-County has done dozens of bathroom remodels over the years, and knows the specific building codes relating to sink access, spacing between toilets and walls, door clearance requirements, curb-less shower stalls, wheelchair turning radius measurements, and toilet seat heights.
According to a 2010 update to ADAAG, basic Accessibility Remodeling guidelines for a single-user restroom include:
A 30-inch by 48-inch access to the sink, meaning the bathroom door cannot swing into this rectangle at any point.
A center line of the toilet which falls between 16 and 18 inches from the side wall.
A unobstructed circle of at least 60 inches around the side wall and 56 inches from the rear wall to allow wheelchair maneuvering (door cannot swing into this area).
A toilet seat height of between 17 – 19 inches.
Where To Begin? Think About Bathroom Accessibility Remodeling In Terms Of Basic Geometry
Designing and building the right handicap-accessible bathroom just takes some geometric logic. For example: Accessibility Remodeling a bathroom designed for users who cannot easily navigate changes in floor grade would logically include a flush floor. This means ideally zero thresholds or steps, including at the entrance to the shower or tub area. Architects limit permissible thresholds to 1/2 inch in height or less so that wheeled mobility devices can roll over safely. Also, wide doorways and passageways are another obvious necessity – wide enough to allow wheelchairs to easily enter, turn around, and exit. Since the users of these bathrooms are more prone to tragic slips and falls, a non-slip floor is one of the most important handicap bathroom feature.
Builders must carefully consider the size and shape of toilets, sinks, bathtubs and showers, ensuring enough open floor space is left for all bathroom users. There should be multiple work surface heights so that all users, both seated and standing alike, can comfortably use the space. Enough space under the sink must be maintained so seated users' knees will clear underneath, allowing them to easily reach the faucet and controls.
Grab Bars: The Hallmark Of Handicap-Accessible Bathrooms
Installing grab bars in all handicap-accessible bathing areas is always a good idea. For use with a bathtub, two bars must be installed on the sidewall within standing and sitting range, and for a shower all three walls should have grab bars. Fixture controls should be placed near grab bars whenever possible.
Want To Get The Ball Rolling On Your Bathroom Accessibility Remodel?