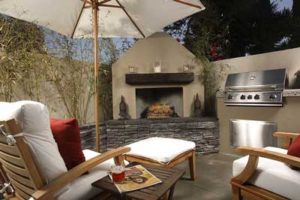 Whether you are looking to make some changes to your summer home or just spruce up your primary residence for summer, Tom's Remodeling has got your summer home remodeling wishlist covered. The rising temperatures (finally!) have got us all thinking about ways to spend more time soaking up the finite afternoons of summertime sun.
Before you write off such summer home remodeling projects as too expensive, consider the options from an investment standpoint. Rest assured that many of these remodeling projects not only allow you to bask in every last second of summer but also increase the overall value of your home.
Summer Home Remodeling – Deck Installation
Designed with entertainment in mind, installing a deck is perhaps the best way to enjoy the outdoor season. Quick turnaround time means you can crack open a cold beer and fire up the BBQ before the back-to-school ads have you asking where the time went. Create your own personal sanctuary with some ultra-plush seating and large umbrella to protect that skin from harmful UVA and UVB rays . Whether relishing in alone time or engaging with the entire family, a deck is truly the classic backyard oasis.
Adding a Sunroom
What better way to take advantage of summer's warmth then adding a sunroom to your home? Considered a space that can be savored year-round, optimal happiness can be found when no bulky sweaters or wool socks are necessary. Natural sunlight and warmth will surge through the skylights above and on every side of the room. Ventilation or air conditioning can be added for more temperature control which may be necessary for those obscenely hot days. If you prefer an unattached summer space on your acreage, we also design and construct gazebos. Contact us for a consultation to find out which material best suits your needs and budget.
Replace dated siding
If it looks like your siding is starting to show its age, NOW is the time to schedule a new application. The sweltering heat of August will be here before you know it and this is a project you do not want hanging over your head of sweaty strands. Call us for an estimate, you will not regret it.
Fix Existing Property Damage
Did April showers bring May flowers AND property damage? Although much less fun to daydream about, if your home has endured any storm damage from wild spring weather, now is the time to fix it. Especially in more rural parts of PA, huge old trees are known to fall and nasty hailstorms can wreck just about anything. Meet with me immediately to get the job done correctly and have your home back in top-top shape for summer.
So, whatever it is that tickles your summer home fancy, act now. We all know that this glorious season does not stick around for long. Create and invest in a space to make memories that last throughout the loooong winter months as well.