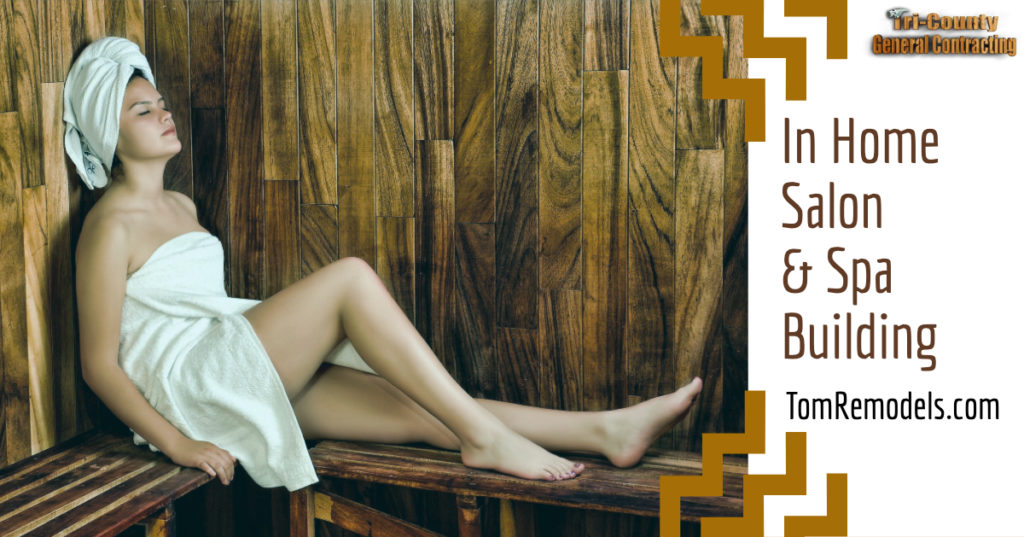 Get A Lavish Retreat In Your Home For Some Carefree "Me-Time" Right Down The Hall

Have you ever wanted the luxury and relaxing environment of a main street salon and spa right in your own home? A special, peaceful place to escape the noise and bustle of everyday life and let stress and tired muscles melt away? To build such a stellar in-home paradise, look no further than Tri-County General Contracting. As a company, we specialize in In Home Salon and Spa Building, and we understand that your home is also your happy place. We want to work with you to make your personal space the most inviting, relaxing and functional it can be.
Got your heart set on an in-home spa or salon renovation? The project price tag might be smaller than you think, and with a quality general contractor like Tom Thornton on the job, achieving the perfect chill space in your home is easier than it sounds. Our team of trained general contractors at Tri-County are available now to give free estimates, and to talk with prospective clients about how they can make their home spa or salon project uniquely theirs.
Simple Or Complex, Pricey Or Cheap, Tri-County Make A Plan For Any In-Home Treatment Space
The only thing that limits your in-home spa or salon project is your imagination. You don't need to spend a ton of money in order to get the 5-star experience. Starting with the right space is crucial – it should be a room that occupants can naturally feel relaxed and secluded in. It should feel like a home away from home, far enough away from any possible noise and commotion from the rest of the house. Turning part of a master bedroom/bathroom into a treatment space is always a good idea, so long as there's enough space for the rest of the room's functions.
To Come Up With A Smart Plan For An In-Home Spa Or Salon Renovation, Consider:
Consider Furniture: Landing a second-hand salon or barbershop chair is great, but for a truly custom and one-of-a-kind feel, shell out a few hundred bucks and buy a professional salon studio chair. Fashion your own nail workstation, or create a wet station with a deep basin sink as a place for shampooing, conditioning and washing hair. Consider what types of lounge chairs your project requires, or whether a sitting area for pre and post-spa-goers would be a worthwhile addition.
Choose A Spa & Cabinet: For home renovation projects involving spa installations, start by thinking of how many people will potentially be using the spa at one time. They come in a variety of sizes – from small 2-person units to larger tubs that seat 8 or 10 people. Once you decide on size, choose the cabinet color, design and material type, including wood, synthetic plastics and polymers.
Think About Flooring, Walls, Storage & Room Layout: Get creative here! Want radiant heated tile floors? What about vibrant, colorful interior paint colors? You couldn't go wrong with built-in cabinets and custom lighting, either. All of these things are customizable with Tri-County General Contracting – it's our mission to build your getaway room just how you want it for maximum enjoyment.
For more good tips on in-home salon and spa projects, check out DIY Network's list of project ideas here.
Want To Know More About In Home Salon And Spa Building Services Offered By Tri-County?
Give Us A Call Today At: