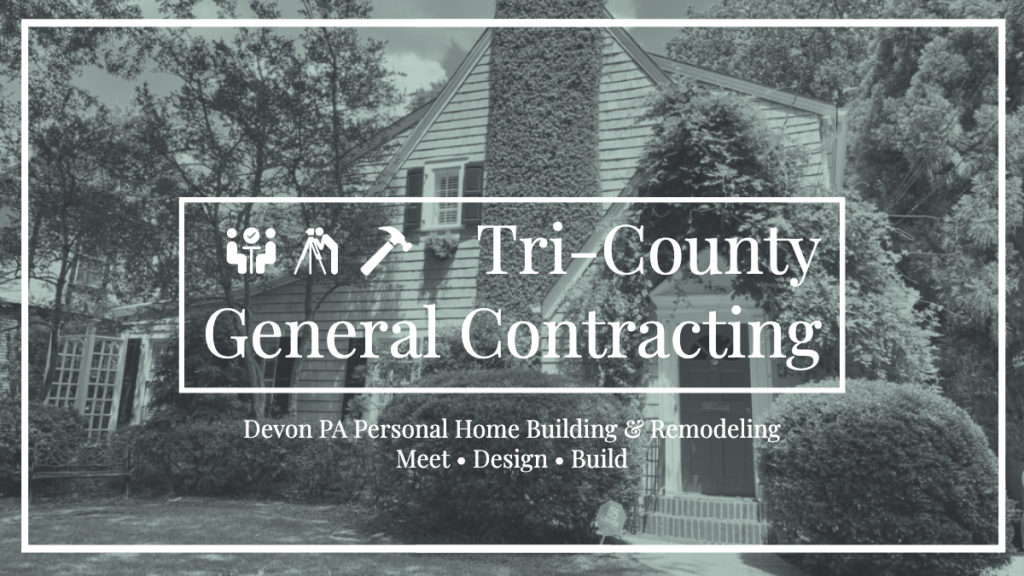 A Trusted Local Southeast PA Neighborhood Home Contractor Is Hard To Find – Unless You Look For Tri-County
Tri-County General Contracting, LLC has been building custom homes in small Southeast PA towns like Devon for more than 40 years, from simple, cozy and cost-effective one-story cabins to modest middle-class family homes to intricate multi-million-dollar state-of-the-art mansions. As a neighborhood custom home builder with countless satisfied clients to vouch for us, we know what it takes to pull off a one-of-a-kind new home construction that every family member can fully utilize and appreciate. After all, we are at heart a family-owned small-town general contracting company, with a staff made up of PA homeowners ourselves, so we know what makes a small-town home truly exceptional. We bring this experience and awareness of our unique Northeast U.S. environment into every home contracting job we take on, especially in the work we do as a Devon PA Home Contractor.
We don't just make grand, unfounded claims about our workmanship, either. On our website, prospective customers can browse our Testimonials Page and read for themselves extensive feedback written by homeowners just like them who opted to experience the benefits of hiring their trusted local builder – Tri-County – for a stress-free, 100 percent professional new home build. And our skill-set isn't just limited to working on new homes. Tom Thornton and Tri-County offer a wide range of home remodeling, renovation and addition services, too, from bedroom additions, kitchen modernizations, bathroom revamps, basement finishes – even exterior work like decks, patios, pool houses and gazebos. For a complete list of the interior and exterior remodeling services we offer, check out the Services Page on our website.
No Matter Where You Live In Devon, PA, Or How Big Or Small Your Home Contracting Project Is, Tri-County Are Your Go-To Pros
There's no home contracting job too big or small for Tri-County. Maybe you are thinking about building a family home across town from Devon Preparatory School, or starting on a investment property near Saint Luke Lutheran Church? Maybe you've got the idea for a townhouse down the block from Devon Lanes bowling alley in your mind, but need help taking it to the next level? No matter where you are in the new home construction planning process, a quick, easy call to Tri-County can get you a free estimate, and also get the ball rolling on the home build of your dreams.
So skip the slick, big corporate builders and consider hiring a trusted, friendly and down-to-earth neighborhood home contracting service with four decades of experience making the dreams of homeowners in small Southeast PA towns like Devon realities. Give Tom and his contracting team a call and see what a difference hiring your neighbor can make.
Want To Know More About Devon PA Home Contractor Services Offered By Tri-County General Contracting?
Give Tom A Call Today At: