From Man Caves To Mini Auto Shops, Tri-County Can Build You The Detached Garage Of Your Dreams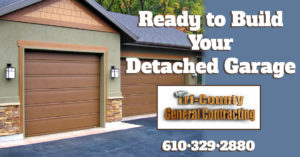 Tom Thornton and his team of builders here at Tri-County General Contracting understand the importance of having the right space in the right place. For years, we've been building beautiful, functional additions and freestanding structures on properties across Delaware, Chester and Montgomery Counties. We are a local leader in detached garage construction in South Eastern PA, from the most humble single carport to extravagant multi-room auxiliary structures for more living, working and storage space. No matter what your detached garage construction project calls for, Tri-County has the tools, plans and experience to get the job done right.
Tom and his team offer direct support to homeowners throughout every step of the construction process – especially during the design phase. We are here to answer all of your questions, and offer input with regards to lot size, function of garage and budget. Municipal counties have their own specific building codes when it comes to detached garages, especially in cases where they need to be legally habitable. Our pro staff has ample experience working with architects and building code offices in South East PA, and can steer you in the right direction when it comes to permitting and inspections.
Detached Garage Construction Cost Vs. Function
One thing homeowners who are considering building a detached garage need to consider is how the new space will function once complete. Is the garage going to mainly accommodate cars? Does it need heating  and/or ventilation systems? How far away from the main residential structure should it be?
Materials are another major consideration in detached garage construction. Bricks are more expensive than wood, and any amount of windows will add additional costs to the project budget. In most cases, garages need to be built over a poured concrete slab – a costly building method over other types of flooring structures. But this base will make the garage more stable and effective in inclement weather, as well as being moisture, stain and impact resistant.
As a general rule of thumb, detached garage construction is more expensive than attached, simply because it involves a freestanding structure without a shared wall. While attached garages link up with a house's existing electrical and plumbing systems, a detached garage needs to have electrical and plumbing lines dug. But detached garages offer several unique options in terms of privacy, work space, accessibility and function. A living space in an attached garage just feels like another bedroom, but a studio-apartment in a detached garage feels like a home on its own. This is arguably a far better and more comfortable option when relatives come to town. Or perhaps you want to start a backyard auto shop or wood shop? With heavy-duty, noisy machines and power tools, it is always wise to build shop-styled detached garages far away from the main living structure.
Whether It's More Work Space, More Parking Space Or Just A Place To Accommodate Guests In Privacy, Let Tri-County Know Your Plan For Your Perfect Garage.
Call Tom and Tri-County General Contracting Today At