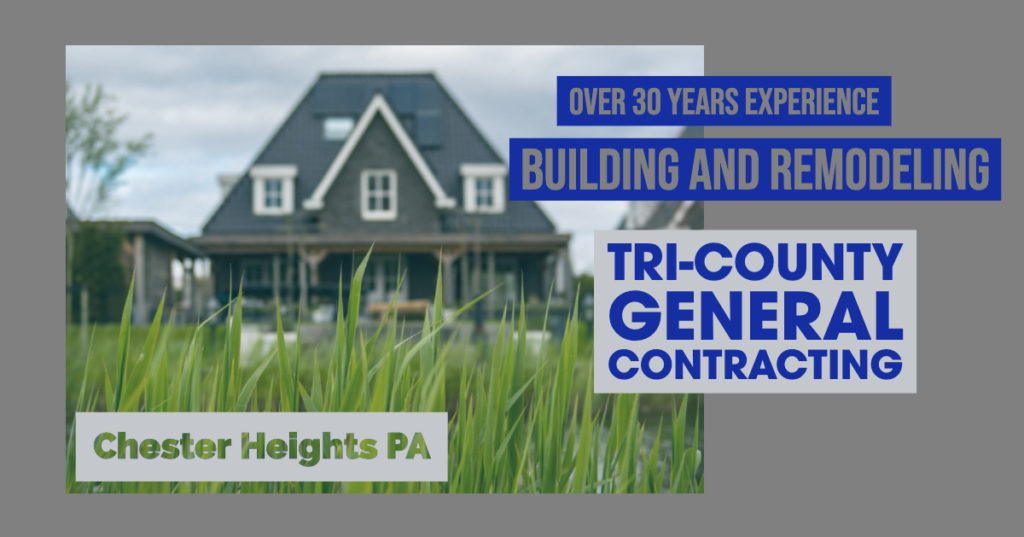 Why Not Hire Your Neighbor? Tom Thornton And Tri-County Are Your Go-To Chester Heights Neighborhood Home Remodeler
Why opt for a croporate home remodeling company when you could hire a pro who's right up the road and specializes in personalized contruction services? Based just a few miles from Chester Heights along Smithbridge Rd in Concordville, Tri-County General Contracting, LLC has been providing southeast PA homeowners the remodels of their dreams for three decades and counting. As a company comprised of rural PA homeowners ourselves, we know what it takes to make a home beautiful, functional and durable in our challenging Northeast U.S. environment. Tri-County's owner, Tom Thornton, has kept the company small on purpose; to retain that small-town, one-on-one customer care, it's a hallmark of his family-owned business. He promises to work with prospective Chester Heights PA Home Remodeling clients every step of the way, guiding his team of carpenters to complete customer satisfaction on every job.
No matter how big or small the Chester Heights PA Home Remodeling project you have in mind, Tri-County is the smart first step in getting the ball rolling on your remodel. From kitchen revamps to bathroom additions, basement finishing to a broad offering of various home alteration services, Tom and Tri-County can tackle any remodel project. We even do plumbing, HVAC and exterior work like patios, gazebos, decks, pool houses and outdoor cooking areas. For a complete list of remodeling and general contracting services offered by Tri-County, consult the Services Page on our website. And don't just take our word for it – browse through our Testimonials Section and read for yourself what happy renovation homeowners have to say about working with us.
For Chester Heights PA Home Remodeling Customers, The Best Home Remodeler In The Neighborhood Is Just Down The Road In Glen Mills: Tri-County General Contracting
No matter what your Chester Heights home remodel calls for; from adding on a room for extended family to finally getting to cook in the kitchen you've always dreamed of, Tri-County is your local neighborhood go-to general contractor. Perhaps you have a quaint townhouse down the block from Hamannassett Bed & Breakfast that could use some more bed and breakfast space of its own? Or maybe it's a ranch home near St. Thomas The Apostle School that badly needs a finished basement or second story. Or maybe your family home across town from Stuff It Taxidermy Studio is ready for a complete master bathroom addition? No matter what the project or its size, give Tri-County a call first and experience the benefits of hiring your trusted neighborhood contractor who's in the next town over. Within no time you'll see why homeowners in Southeast PA towns like Chester Heights and many others in Chester, Delaware and Montgomery counties have found a friend in the home remodeling business with Tri-County.
Want To Know More About The Home Remodeling Services Offered By Tri-County in Chester Heights, PA?
Give Our Friendly, Knowledgable Builder Tom A Call Today At: