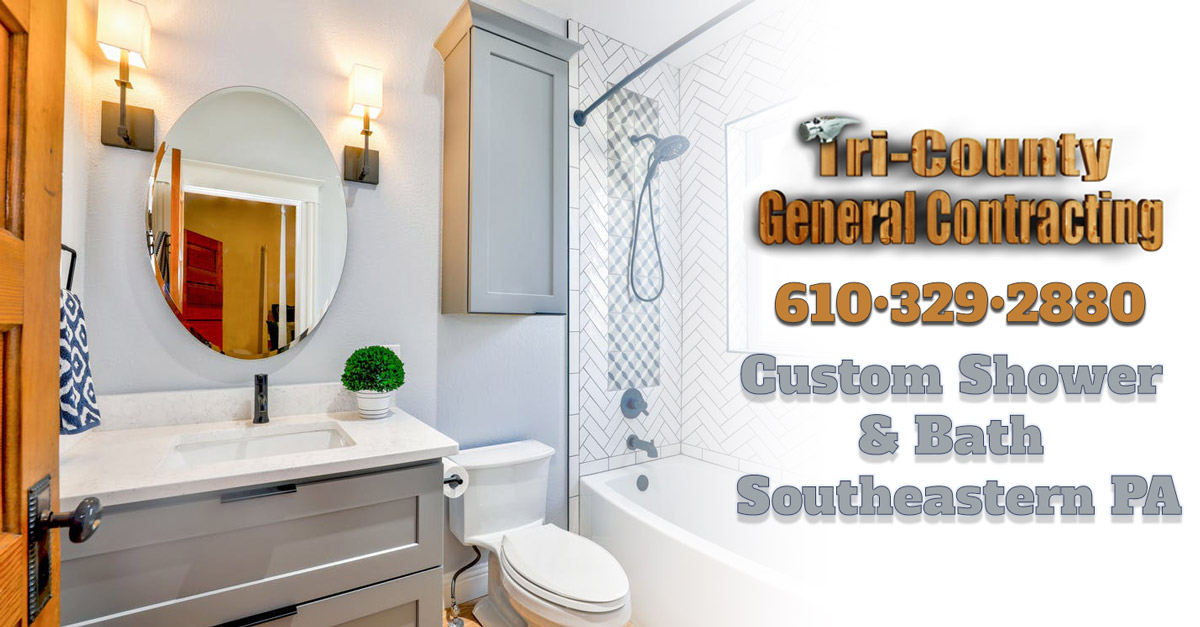 Transform your favorite bathroom into an oasis of luxury and function with a remodel from custom shower & bath Southeastern PA contractor Tri-County General Contracting. For more than three decades, we've been helping small-town Southeastern PA homeowners get the bathroom revamps they need at the price-per-square-foot they want. But don't just take our word for it; read through our testimonials and see for yourself how many happy custom bathroom clients we've had over the years. We also offer kitchen, bedroom addition, basement finishing, new home construction and decking and flooring contracting services in Delaware, Chester, and Montgomery Counties in Southeastern PA.
Here at Tri-County, we know your bathroom can sometimes be the most important room in your house. That's why we offer homeowners some fantastic ideas on how to customize their shower and bathroom spaces to improve aesthetics and make them places every family members enjoys spending time in. These are simple, cost-effective revamp ideas that might just make all the difference in your next custom bathroom project. So check out the list we've put together, or give Tom Thornton and his team of contractors a call today for a free estimate on some really stellar custom shower & bath ideas and get the ball rolling on your next project.
Smart Picks For Custom Shower & Bath Southeastern PA:
Built-In Wood Vanities: With the decline of sterile white porcelain sinks and white on white cabinetry, the look of natural wood brings and warmth and softness to a space that is usually lost in bathroom aesthetics. Wood vanities with wood cabinetry can complement one another, with brightly colored tile or stone counter tops to round out the room. Make the vanity and cabinetry out of driftwood or reclaimed barn wood and get a beautiful vanity while at the same time saving a tree.
Get A Tub: Fancy bathtubs don't work in every bathroom, but with a little imagination and a trustworthy and capable contractor like Tri-County General Contracting, a custom shower & bath remodel can easily make space for the tub of your dreams without breaking the bank!
Make It Marble: The look of real marble on bathroom surfaces is unmistakable and instantly appealing. Also, thanks to its porous nature, marble has served as a natural water-resistant material in bathrooms since the times of ancient Greece.
Custom, Artsy Wallpaper: Retro wallpapers are making a comeback. Always wanted purple polka-dots in your master bath? Tri-County can incorporate whatever interior design ideas you have in mind into a workable plan for decorating your bathroom just the way you want.
Have More Questions About Tri-County's Custom Bathroom Remodel Services? Give Us A Call Today At: 610-329-2880