Does Your Pool Need A Makeover? In Need of a Place To Lounge Or Mix Drinks Poolside? Tom & His Team Can Help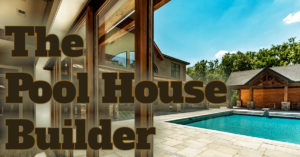 As a pool house builder throughout Delaware & Chester County PA, Tom Thornton and his team of home contractors know that a complimentary indoor space can be the ultimate upgrade for any backyard swimming pool. Gone are the days of wet pool guests tromping through your house, and the constant back and forth between pool, kitchen, bathroom, etc. With a pool house, you can keep all pool-related equipment and accessories safely housed right where you need them. Popular customizations include mini-bars, half-bathrooms, game-rooms, outdoor shower facilities, indoor/outdoor kitchens – even poolside structures with entire guestroom suites attached. There's no limit to the functionality and usefulness of a pool house.
Custom, One-Of-A-Kind Pool Houses Built By Tri-County – The Perfect Complement To Your Pool Space
Here at Tri-County General Contracting LLC, we've been in the general contracting business long enough to know some things can't be one-size-fits-all. This is especially true when it comes to being a pool house builder Delaware & Chester County PA. Pool houses really are one-of-a-kind things. Anything more extravagant than a big box store prefab plastic storage shed will require a builder's eye and some creativity. You want a pool house that seamlessly matches your home's design, siding and trim paint colors, yard layout and other factors can be tricky. So if you are thinking about this pool upgrade, don't take a chance on a second-rate contractor. Pool house clients in the Southeast PA Tri-County Area already have a reliable resource for pool house construction and many other residential contracting jobs with Tom Thornton and his contracting team at Tri-County.
Add-Ons To Consider When Designing Your Dream Pool House:
Storage: What types of equipment will the pool house contain? How will it be organized? One major benefit of pool houses in the Northeast is that when seasons change and winter weather sets in, patio furniture and other pool accessories can be stored inside. Then come spring and summer, furniture, tools and toys for the pool are already where they need to be. Also, it's always a good idea to have a secure place to store often-toxic pool chemicals away from children and pets. What about storage for yard tools? Could the pool house double as a garden shed?
Mini-Bars & Kitchens: As one of the most popular pool house add-ons, indoor/outdoor mini-bars and simple kitchens can completely change how you entertain around the pool. Meals, drinks and more can now be prepared and served right in the middle of the action, making it much easier for pool guests to serve themselves. Say goodbye to wet carpet!
Guest Suites: Kill two birds with one stone, and turn your pool house project into a full-fledged guesthouse structure. Include a bathroom that's also accessible from outdoors, which can double as the pool restroom and guesthouse bath.
Home Gyms: Locating exercise equipment in pool houses can alleviate noise for your home's other residents, and can help you expand your routine with pool, cardio and weight lifting equipment now all in the same place.
Want To Know More About Tri-County's Credentials As A Pool House Builder Delaware & Chester County PA?
Give Tom Thornton A Call Today At: