For All Your Residential Fine Carpentry Southeastern PA Needs, Look No Further Than Tri-County General Contracting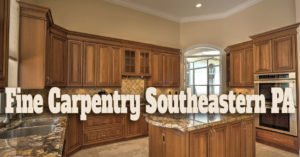 Tom Thornton and his team of general contractors at Tri-County General Contracting LLC are top-notch builders and home renovators. But they are more than that, too. Tom and his team also specialize in fine carpentry Southeastern PA services; everything from custom interior trim and millwork installation to custom build-in cabinetry, all with the same level of quality and customer service that Tri-County's home construction and remodeling clients have come to expect for more than three decades now.
After all, it's the little, intricate, ornate things about a house that truly makes it a home; handsomely crafted rooms full of character, handmade furniture with a story and a face behind them. What about a stylish, one-of-a-kind fireplace mantel? Or maybe a custom hardwood deck and pergola with tons of customizable options? There is no limit to the number of fine carpentry options for your home; all it takes is a little guidance from a friendly, customer service-oriented builder like Tom Thornton. As the founder and owner of Tri-County, Tom is a master of fine carpentry Southeastern PA. He will walk you through all the fine carpentry options available for your home, and help get all your questions answered fast. Quotes are always free, and even a quick browsing of our testimonials page will prove Tri-County is synonymous with quality craftsmanship.
From Handmade Wooden Bars To Built-In Kitchen And Bathroom Cabinets, Tri-County Has The Fine Carpenty Tools And Technique To Do All
A custom-built piece of fine carpentry, whether a door or table, cabinet or shelf, has the potential to be the centerpiece of any room. They are the handsome wood pieces that give your home a handcrafted, one-of-a-kind feel, much like the pieces of art hanging on the wall. But it's not always easy to find competent fine carpenters to build to exact specifications. There is no room for error in fine carpentry, and Tri-County knows that well, offering its clients 100 percent satisfaction guaranteed service with plenty of options to give input and feedback to builders. Whether your fine carpentry needs are part of a standalone project or a larger home remodel, Tom and Tri-County will talk you through every step of the way in getting the beautifully crafted fine carpentry pieces you've always dreamed of having for your home.
Have More Questions About Fine Carpentry Southeastern PA Services Offered By Tri-County General Contracting?
Don't Wait! Give Owner Tom Thornton A Call Today.
Get Answers For All Your Questions Along With A Free Quote At: