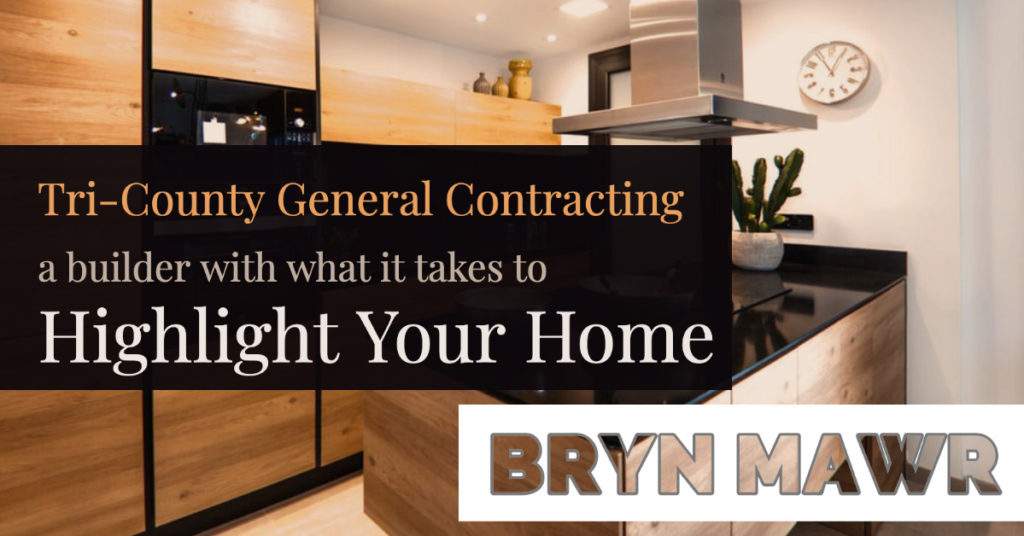 For Bryn Mawr PA Homeowners Who Demand Only The Best In Luxury Remodels, Call Tri-County First
Discerning suburban Southeast PA homeowners have plenty of choices when it comes to pulling off a luxurious, ultra-modern remodel and creating the home of their dreams. Selecting a site, choosing plans, making a budget and customizing to fit specific family needs can be hard, but finding a trustworthy, 100 percent pro local Bryn Mawr PA remodeling contractor has never been easier, especially when you call Tri-County General Contracting, LLC. Tri-County's owner Tom Thornton has been achieving beautiful, one-of-a-kind renovations in suburban towns like Bryn Mawr PA for nearly 40 years, with plenty of satisfied customers earned over the years who can vouch for his craftsmanship and professionalism.
But don't take our word for it – browse Tri-County's page of testimonials on our website and read what remodel customers in towns like Bryn Mawr have to say about working with Tri-County. From guest room additions to basement finishes, family room bump-outs to garages, bathroom revamps to complete kitchen overhauls – even patios, gazebos, pool houses and decking – whatever your Bryn Mawr remodel project calls for, Tom has the tools, materials and skills to get the job done right the first time. For a complete list of Bryn Mawr PA remodeling contractor services offered by Tom and Tri-County, check out our Services Page on our website. Want a free project estimate, or maybe even some planning advice? Tri-County can do that, too.
From The Main Line To The Outskirts – No Matter Where You Live In Bryn Mawr, Tri-County Can Help
Tom Thornton and Tri-County General Contracting have pulled off state-of-the-art home remodels all across Lower Merion Township in Montgomery County. In fact, Montgomery is one of the counties from which the company draws its name, in addition to Chester and Delaware Counties. Tom is based just a few miles down the road in Glen Mills, making Tri-County and Bryn Mawr residents almost neighbors! This means Tom understands what it takes to maintain a beautiful, elaborate home in our trying Northeast environment. So no matter where you live in town, or what type of renovation contracting services you need, let Tom Thornton help you experience the benefits of skipping the Big Box Store builder and hiring your trustworthy neighborhood 100 percent pro contractor.
Maybe you own a ranch house near Bryn Mawr Hospital that needs a master bedroom expansion? Or maybe you have a family home across town from The Shipley School or Bryn Mawr College that could really use a completely modernized luxury kitchen space? Perhaps it's a condominium down the way from Ludington Library or Harcum College that needs a walk-in shower, radiant heated flooring and a jacuzzi tub, or a luxury home across from the Bryn Mawr Film Institute that could be your friends' summer hub with an outdoor kitchen and built-in barbecue space. All of these fantastic projects and so much more start with a quick, easy phone call to top Bryn Mawr PA remodeling contractor Tri-County General Contracting.
Have More Questions About Tri-County's Bryn Mawr PA Remodeling Contractor Services?
Give Tom & Tri-County A Call Today At: