Tri-County General Contracting's 2019 Home Remodeling Ideas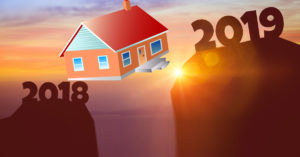 Thinking about a home remodel in the new year? 2019 is a great year to finally get the home you've always wanted. From the latest appliances to the most modern interior designs, Tri-County General Contracting has compiled a list of the hottest home remodeling trends for 2019. Whether it's a bathroom remodel, kitchen revamp, home addition or a complete renovation, there's something in this list for anyone and everyone interested in pulling off a remodel this year. This year's list of 2019 home remodeling tips includes:
Rethink Kitchen Colors: Brightly colored appliances and non-white cabinetry are all the rage in 2019. Say goodbye to the drab look of white on white on white. Make your refrigerator pop with a splash of color – or refinish/replace old, worn and faded plain cabinetry for ones painted in warm, inviting tones. This might just supply the bold aesthetic statement that your kitchen needs. For more ideas about cheery-colored kitchen appliances, check out the colorful appliances in HGTV's list of kitchen color revamps.
Concrete Countertops: The expense, maintenance and installation difficulty of stone countertops are gone in 2019. Concrete counters are in-style now, making for an inexpensive, functional and long-lasting kitchen prep surface that can be stained, polished or lighted to resemble anything from a butcher block to polished steel. Also, concrete countertops don't rust, scratch, dent or stain like other materials, making them an economical choice for moderate to heavy everyday kitchen use.
Gold Fixture, Open Cabinet & Shower Enclosure Remodels
Gold Fixtures Everywhere: From a shiny bathroom sink to a glinting golden shower fixture to gold kitchen range knobs, gold is making a reappearance in every room of the house in 2019 remodels. Its is such a warm, inviting and decadent color; gold makes fixtures like faucets, appliance handles, door knobs and shower heads pop out of the background color scheme.
Open Cabinets For The Illusion Of More Space: With the popularity of the Tiny Home movement, modern designers are always trying to think up ways of doing more with less space. Utilizing open cabinetry is a tried and true way of making a room seem bigger than it really is. No more searching around for seldom-used kitchen equipment or rummaging through drawers looking for toys or games. With open cabinets, everything is always right in front of your eyes, and fewer drawers and lids can really make a room feel more spacious.
Cool, Funky Shower Enclosures: Why not bring a splash of color and visually appealing angles into the bathroom with a new shower enclosure remodel? With many materials and styles to choose from, this is a project that you can really make your own. Customize the structure with storage options to meet all your toiletry needs, and choose your level of privacy and type of entryway, whether swing or slider door.
Have Questions About Any Of These 2019 Home Remodeling Tips? Don't Wait To Get Expert Advice!
Give Tri-County General Contracting A Call Today At: