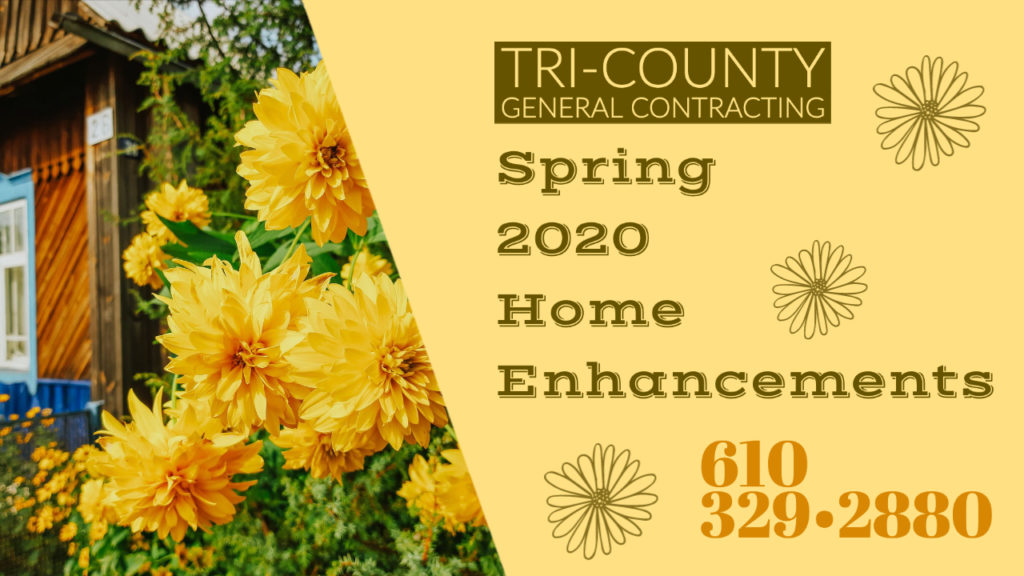 Spring Into A Better Home With A Picture-Perfect Tri-County Remodel
Warmer weather is on its way, so why not pull off a quality home remodel to make the most of your space when the cold days are finally gone? Now is the time for 2020 Spring Home Enhancements; repaint, add-on and fix roofing, siding and decking that just took a beating from harsh winter weather. This is also a great time of year to start thinking about outside construction projects like garages, porches, pool houses, gazebos and more. If your spring cleaning is likely to turn into spring remodeling, now is also the time to find a trustworthy, competent home remodeling contractor who can get the ball rolling on your project in the new year.
Tom and Tri-County General Contracting LLC are themselves homeowners in the southeast PA area, so they know what it takes to maintain a home in our challenging Northeast US climate. From roof and siding repair to window and door replacement, Tri-County are pro's at getting your home functioning again after the wind, snow and ice has taken their toll. Want new bright, colorful interior paint to match the flowers blooming outside? Tri-County offers pro painting services along with a dozen other interior renovation specialties. For a complete list of both interior and exterior Spring 2020 home enhancements offered by Tom and Tri-County, check out the Services Page on their website.
To Help Our Remodel Customers Come Up Ideas For Spring 2020 Home Enhancements, Here Is A List We've Compiled:
Finish Basement/Add Sunroom: Springtime means more activity in the home, so why not "spring" for a finished basement to open up more space for games, movie watching or table sports? Adding on a sunroom can create a sun-soaked retreat space when the days get brighter.
A Splash Of Colorful Paint: Take some inspiration from the flowers outside and go for new interior colors throughout the house, or in just one room to create a different vibe. Yellows, oranges, reds, pinks and blues adorning walls can really create an inviting space when brightened by sunny spring days.
Repair Old/Damaged Roofing, Siding & Decking: Your home's exterior can really take a beating with winter weather, so it's always a good idea to hire a pro contractor to replace storm damaged or worn out roofing and siding, and to repair broken, rotten or unstable sections of decking. Adding covered deck space goes one step further in resisting the spring rains.
Outdoor Kitchen/Barbecue Area: Springtime means being able to use your outside spaces again, and there has never been a better time to install a handsome outdoor kitchen and/or barbecue area to entertain guests, watch the big game or serve an Easter lunch.
Home Additions: The changing seasons also often bring with them visiting guests, whether friends or family, and having a seperate, private space for them to relax in can truly bring peace of mind to everyone in the home. And Tom and Tri-County specialize in home addition remodels, so it has never been easier to get a bigger, more functional home for the season.
Go Beyond Just A Spring 2020 Home Enhancements: Get A Tri-County Pro Remodel
Want Some More Inspiration For Achieving A Reinvigorating Spring Home Remodel? Check Out The Spring Home Renovation Guide on Forbes.com, or Better Home & Garden's list of Spring Home Projects.
Have More Questions About Spring Home Remodeling Services Offered By Tri-County?
Give Tom Thornton A Call Today At: