Winter Is On Its Way. Will Your Home Be Able To Keep Out The Cold?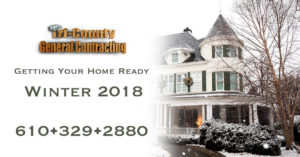 As we head into another winter in the Northeast, smart homeowners always go through a mental list of cheap, easy tips to get their homes ready for freezing temperatures, snow, sleet, hail and frigid winds. Here at Tri-County General Contracting, we are all about helping our homeowner friends and customers protect and get better value out of their homes. In winter months, this means making sure pipes don't freeze, living spaces stay cozy, gutters and chimneys work well, and windows are well-insulated. Follow these tips, and Getting Your Home Ready For Winter 2018 will be a snap!
To help our rural PA community better prepare for Getting Your Home Ready For Winter 2018, we have made a list of inexpensive and simple tips to think about for when temperatures drop and the days get short. With more than three decades experience providing home remodeling and general contracting services to southeast PA towns, Tri-County has compiled these tips from numerous successful winterizing home remodels. Tom Thornton and his team of contractors are also homeowners themselves, operating a family-run business, so they know what it takes to get a southeast PA family home ready for winter.
Tri-County's Getting Your Home Ready For Winter 2018 Tips Include:
Insulate Your Attic Or Crawlspace: Spending a little money to put new insulation in an attic will save a lot of money in the long run by keeping living spaces warm and the attic itself cool, preventing damaging ice dams from forming on your roof. Contractors often cite insufficient attic insulation as one of the cheapest basic home winterizing renovations in terms of Return on Investment. Consult Energy Star's Recommended Insulation Levels For Retrofitting Existing Wood-Framed Buildings to get an idea of where your home's ideal attic insulation level should be.
Wrap Indoor Pipes: Frozen pipes can burst, causing thousands of dollars in damage to a home's plumbing. Pipe insulation, on the other hand, is very cheap, and with a little DIY skill or a call to Tri-County, you can get peace of mind that your water supply will be fault-free this winter.
Install Heat-Insulating Windows: If your home has broken, outdated or otherwise poorly insulated windows, no doubt that's where a lot of heat if being lost from living spaces. Replacing these types of windows with high R-value, double-paned and energy-rated windows will save on utility bills all winter, and in a few years will pay for themselves.
Clean And Inspect Gutters: For most people in the U.S., winter means harsher weather, more rain and more of a burden on a home's gutter system. Cleaning, inspecting and repairing broken gutter segments will pay off when the next big rainstorm rolls through.
Inspect And Replace Roofing: The roof of a home is the most important part of its winter defense. If there are any leaks in your roof, missing shingles, rusted metal sheeting or faulty gutter systems, a call to Tri-County can get a quick, affordable roof renovation started, and get peace of mind that your home will stay warm and dry even when the cold winter rains are pouring down outside.
Have Questions About Our "Getting Your Home Ready For Winter 2018" List?
Want To Know More About Any Of These Home Contracting Services And More Offered by Tri-County?
Call Us Today At: