"Come Spend The Holidays At Our House This Year!"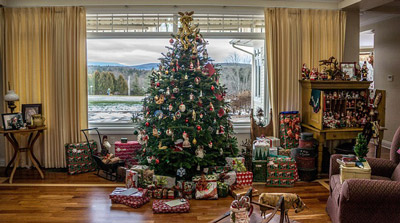 If you are planning to say this line to more than a couple of people this holiday season, it might be time to think about some holiday remodeling. No matter what you have in mind – whether it's another bathroom, a bigger kitchen for that 10-course dinner or a larger living space to host friends and family members – Tri-County General Contracting is here to get the job done. Tom Thornton and his team know fall is a busy time of year. Our company has been beautifying homes during the holiday season for the last 40 years and have many satisfied customers who put their worries to rest hiring us for last minute home improvements. We pledge to complete remodels efficiently, effectively and in a timely manner, so as to make sure our work does not hinder your holiday plans.
No job is too big or too small for us. We've worked on projects ranging from million-dollar custom homes sites to smaller additions, kitchens, bathrooms basements, decks and more. The most important part of our company mission is giving our clients and their loved ones the home of their dreams to celebrate the holidays in. So give Tri-County General Contracting a call today!
610-329-2880
Get a free estimate for your holiday remodeling project this season!
Holiday Remodeling: Home Additions That Add Value, Too
Holiday remodeling can serve two purposes to the resourceful homeowner; it can help increase the space in a house to accommodate more guests for the holiday season (obviously), but it can also add value to a home at the same time. Thinking of putting your house on the market next spring? Now's the time to get started. Here are some popular holiday home renovation ideas that can become a nice return on your investment should you decide to sell:
Bedroom
Master Bedroom EnSuite: Do you want to live your dream of having that spacious master bedroom, but can't justify the project to your better half? Having to put up a large extended family is always a good reason for the upgrade. This type of addition can significantly increase the enjoyment of a home in a personal and private way, and will also free up other space in the house for guests – perfect for the holidays!
Bathroom
Adding A Guest Bathroom: Entertaining holiday guests inevitably means the bathroom will see more traffic. As it is now, can your bathroom accommodate that many more people? Do you need an extra bathroom to put at ease to a houseful of overnight guests? They will no doubt appreciate the added privacy and convenience of having their own shower, toilet, sink and mirror.
Kitchen
Maximize Kitchen Space: The holidays may be one of the only times your kitchens and dining rooms are used to their full potential. With large holiday dinners, the functionality of these rooms are put to the test. Is there enough space in your kitchen for all the stages of a large meal? Are there enough seats at your dining room table? Would a double oven better handle cooking different dishes at different temperatures? Rethinking a kitchen's layout in how it intersect dining and living rooms can even foster a social atmosphere in a home. Popular holiday kitchen upgrades include built-in wine fridges, butcher block surfaces, expanded kitchen islands, warming stations and decorative hanging cookware racks.
Don't Wait Until the Dead of Winter to Get Started! Call Now for a Free Estimate. (610)329-2880